San Miguel Scholarship
Scroll down to go straight to the giving form
Established in 2004, the San Miguel Scholarship, named in honor of the first American Lasallian Saint, is awarded annually to up to seven incoming freshmen. This full-tuition scholarship is offered to students of academic promise whose family income puts them at or below the federal poverty line.
The scholarship is full-tuition for four years, including waivers of all textbooks, fees, and uniforms, provided the student maintains an acceptable level of academic achievement, contributes in appropriate ways to the school community, and demonstrates financial need on an annual basis.
To date, the school has graduated 144 San Miguel Scholars with another 26 scholars currently enrolled at La Salle. Students like: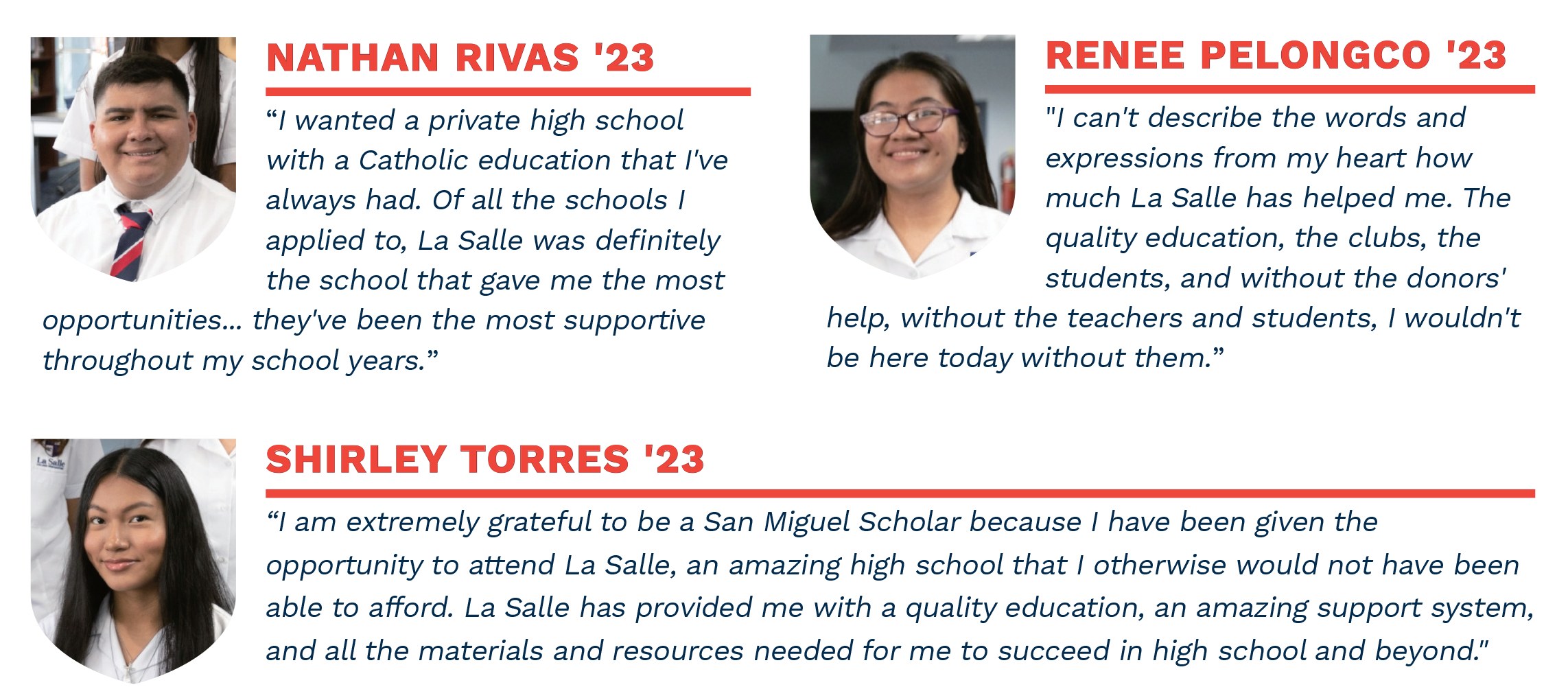 Your gift to the San Miguel Scholarship Fund helps students like Nathan, Renee and Shirley-- students who otherwise would not have been afforded the opportunity to attend La Salle and receive a Lasallian education. Although a lot has changed at La Salle since we first opened in 1956, the collective belief that a new generation of Lancers benefit when loyal alumni come together remains.
Your gift today will not only grow the fund and the number of San Miguel Scholarships possible, but also increase alumni participation behind this very worthy cause.

Gifts to the Pat Bonacci, AFSC Endowed Scholarship Fund, the Annie Johnston Memorial Endowed Scholarship Fund, and the newly established Dr. Richard Gray Memorial Endowed Scholarship Fund all support San Miguel Scholars. So whether you direct your gift to a named San Miguel Scholarship or the fund, in general, you are making an impact.
DISCOVER LA SALLE
La Salle College Preparatory was founded in 1956. Today, we are the only truly diverse and co-educational Catholic high school in Pasadena.