Mission, Values, Motto
Our Mission
La Salle College Preparatory is a Roman Catholic educational community inspired by the traditions of Saint John Baptist de La Salle. Our college preparatory program enables diverse and academically capable students to become extraordinary people.
We are distinguished by an insistence on educational excellence that focuses on:
Nurturing The Talents of Each Student
The uniqueness of each student's spiritual, intellectual, physical, and artistic potential is recognized and promoted.
---
Inspiring in Students a Sense of Responsibility for Others
Motivated by a spirit of faith and zeal, our students are informed by and made responsible for the world in which they live.
---
Challenging Students to Embrace Diversity
Students are challenged to demonstrate respect and appreciation for people of different talents, cultures, religions, genders and economic backgrounds.
---
Motivating Our Students to Respond Compassionately
To the needs of others, especially the poor.
---
Our Motto
LEARN

Explore inside and outside
the classroom

SERVE

Give back to our community

LEAD

Apply our knowledge and
mindset to shape a better
tomorrow
Our Crest
An evolution over the course of the last sixty years, our crest pays homage to La Salle College Preparatory's heritage while establishing a single identifier to define our community for years to come.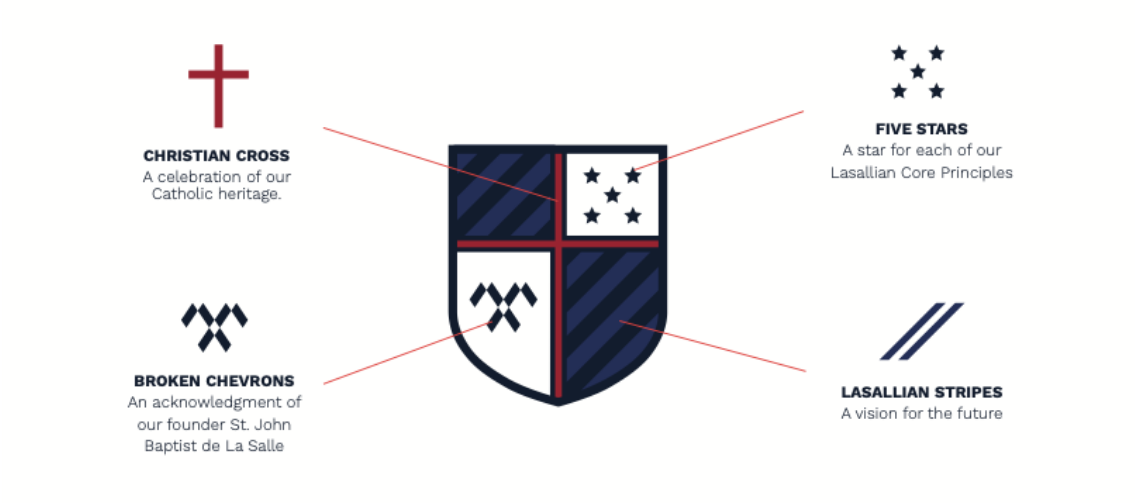 Lasallian Core Principles
Our Five Core Principles drive all of our decisions, actions and work at La Salle College Preparatory. From academics, counseling, arts and athletics, these Lasallian principles guide our students, faculty and staff everyday. In following each, we strive to carry out our mission in the name of St. John Baptist de La Salle.
INCLUSIVE COMMUNITY

We celebrate our inclusive, co-educational and diverse environment because it prepares our students for an increasingly global culture and economic landscape.

QUALITY EDUCATION

Our high-caliber academic program challenges our students in the classroom and our broad offering of co-curricular programs empower and enable our students to discover their path to excellence.

RESPECT FOR ALL PERSONS

Our diverse student-body fosters acceptance of all persons and enables spaces in which differing and opposing points of view can be shared and heard. We do not tolerate prejudice, bigotry or discrimination, because it has no place in the world.

CONCERNS FOR THE POOR AND SOCIAL JUSTICE

We place a strong emphasis on service, through classes and opportunities to serve in our community and around the world. We do this to instill in our students a sense of responsibility; that their impact in addressing social challenges is needed and can be felt beyond our walls.

FAITH IN THE PRESENCE OF GOD

We are proud of the service, love and care that our Catholic faith and heritage unlocks in our community. We educate our students about the importance of faiths around the world and how faith is central to shaping values.
DISCOVER LA SALLE
La Salle College Preparatory was founded in 1956. Today, we are the only truly diverse and co-educational Catholic high school in Pasadena.