Center for Cultural Perspectives
La Salle's Commitment to Global Understanding and Navigating Diverse Perspectives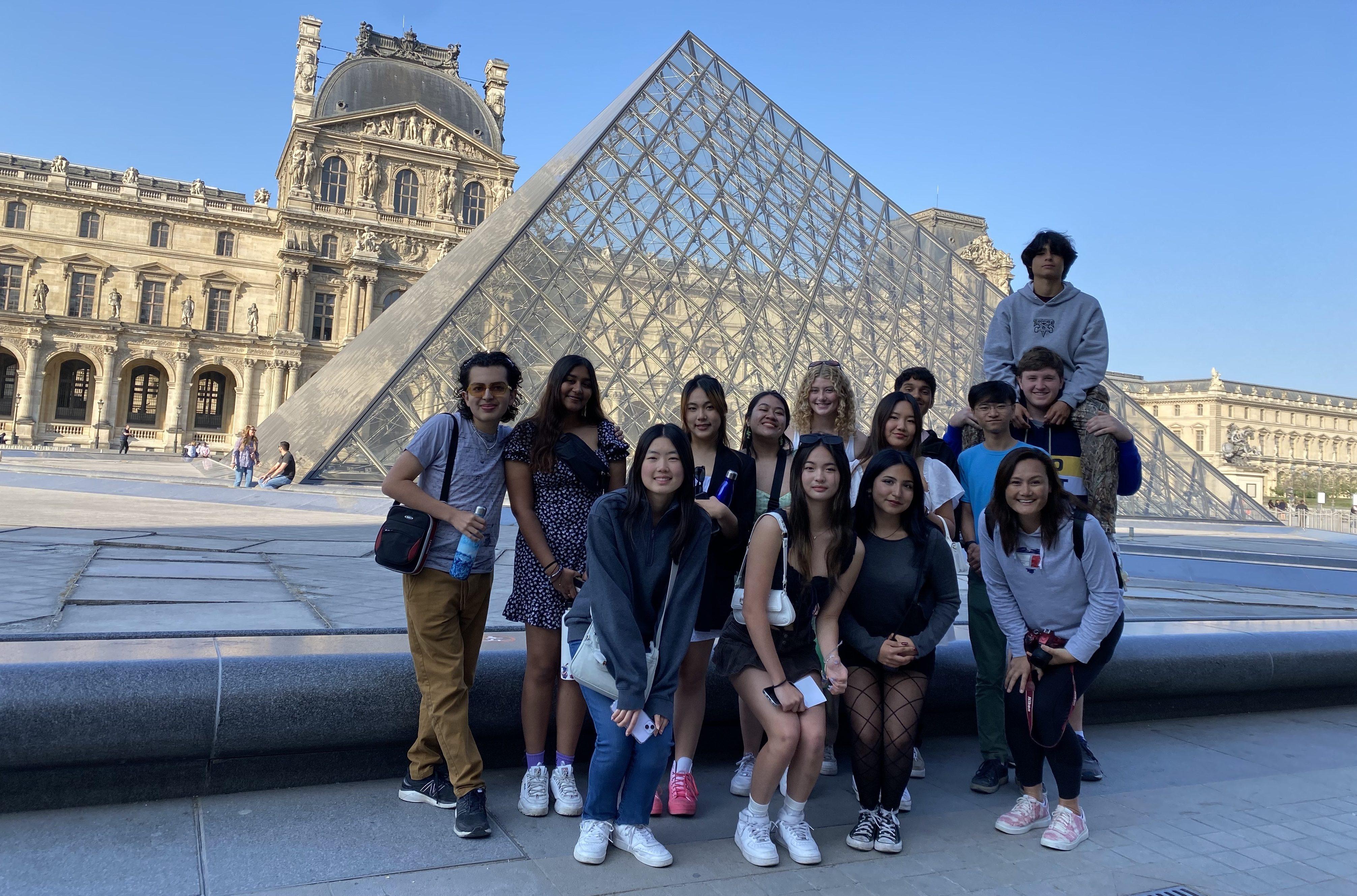 As a member of the worldwide Lasallian education network, La Salle College Preparatory believes that a global education develops the knowledge and empathic skills to understand diverse perspectives. Guided by our Lasallian mission, we encourage La Salle students to advance the common good through learning, leadership, and service.
The Center for Cultural Perspectives assists students in developing their capacity to be informed and open-minded, appreciate diverse viewpoints, and understand how culture shapes perceptions. It inspires and prepares students to follow their passion for exploring intercultural relations and global peace while serving others. This Center will also provide opportunities to travel globally, host foreign visitors, and participate in service projects guided by experienced speakers and mentors. These experiences develop communication, collaboration, creativity, and critical thinking skills for global competence.
The Center also supports learners who can use critical thinking and diplomacy to interact with the world. Through international and cultural education, students are prepared to address the world's most pressing issues collaboratively, equitably, and sustainably. Immersed in cultural experiences, students learn the interdisciplinary nature of global issues, given the complexity of environments and competing needs and interests of our World.
---

Programs & Opportunities
Students will explore diverse intercultural relationships, practice cultural awareness, and gain unforgettable insights into diverse cultures through world travel. This process not only develops global competence, creative minds, and courageous new perspectives but it sparks an enthusiasm for fostering connections and collaboration.

Global Lasallian Network cultural & educational exchange
International travel & hosting international students
Short & long-term study abroad
Cultural and diplomacy skills learning

College credits & Global Scholars pathway
Activities developing global competence
Distinguished speakers & mentorship
Internships & services

Global Scholars Pathway
To fully support students, La Salle College Preparatory creates a new Global Scholars pathway tailored for students to develop global competence skills such as empathy and self-awareness and to practice their critical thinking and diplomacy skills in their daily lives.
Academic Studies

Concurrent Studies of a Foreign Language.
Complete 2 or more Pasadena City College courses on Global studies, Approved courses on Engenuity, or approved studies through outreach program organizations and institutions.

Cross-Cultural Experiences

Participate in 1 or more outbound international exchange trips or inbound hosting.

Community Engagement & Service

Participate in clubs, activities, or events aligned with the global competence framework.
Internships or community service projects that contain an aspect of global competence.

Critical Reflection

Promote and support global experience through individual projects or on-campus activities.
Pasadena City College Credit Course in Global Studies
To equip students with comprehensive knowledges and necessary skills to investigate global issues, and help them build competitive academic portfolio for college applications, La Salle College Preparatory expands our collaboration with Pasadena City College to offer two college-level courses:
Global Studies 001
Global Studies 002
These courses are offered free of tuition and enrollment is open to all grades. Students who successfully complete these courses will earn college credits issued by Pasadena City College. You can find the course details here.
Imagine Egenuity Online Curriculum
Additional online elective courses through Edgenuity can also serve to fulfill the academic studies requirement under the Global Scholars Pathway.
Sample courses:
Civics & Citizenship
World History, Culture and Geography
Principle of American Democracy
Human Geography
U.S. Government & Policies

Additional Courses & Programs
Any pre-approved studies through outreach programs by various organizations or institutes. (Approval is Subject to Center Director)
---
La Salle Intercultural Exchange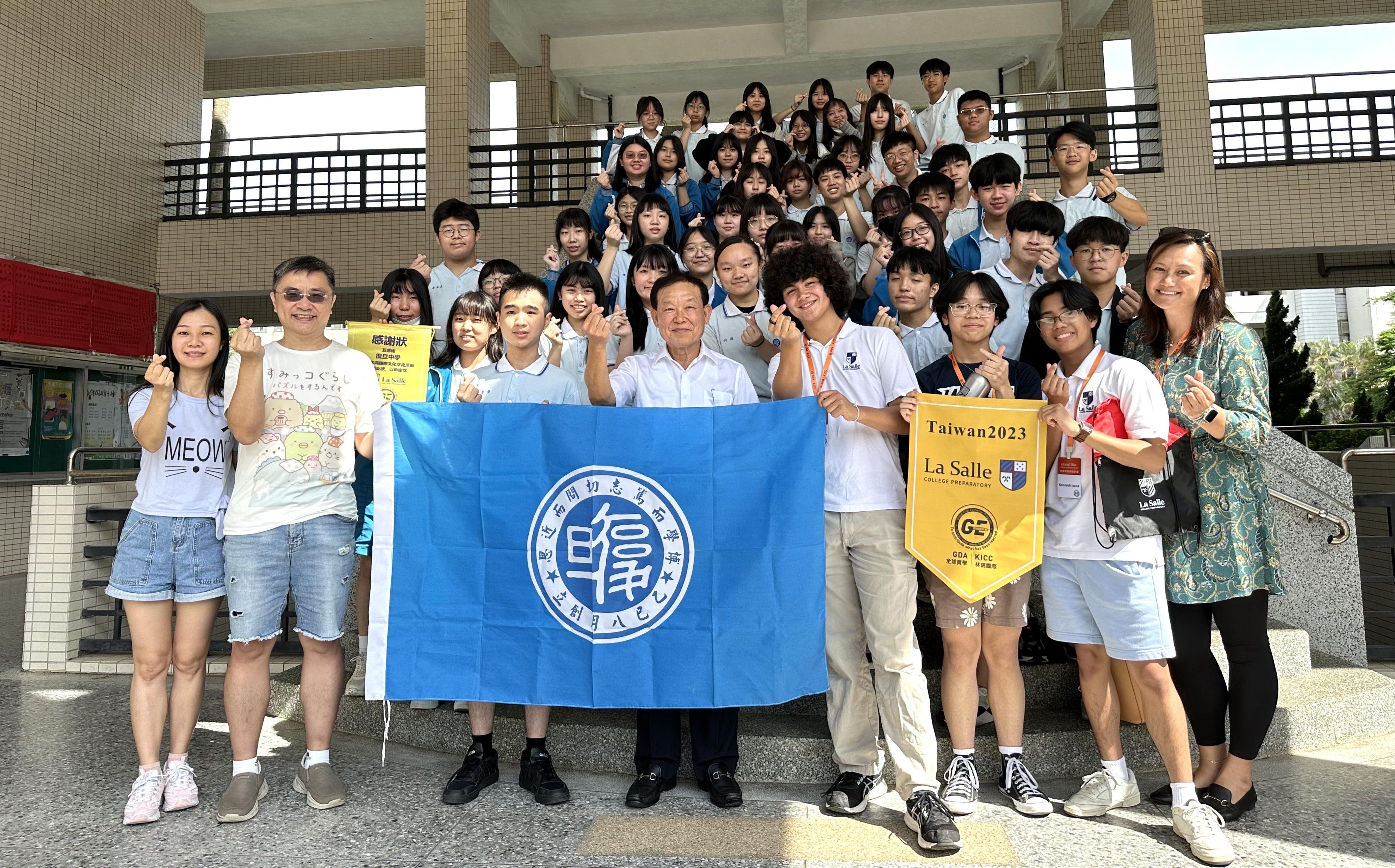 La Salle College Preparatory offers a complete list of opportunities for our students to experience cultural diversity and share ideas, traditions, and perspectives. Our students will experience language and cultural differences with students abroad, like them, who also yearn to learn about different cultures. Inbound and outbound programs and opportunities are provided throughout the academic year and will cover various focused areas, such as Lasallian worldwide mission, Language Studies, STEM, Art, and Global Studies. Whether it's a short one-week adventure or a longer-term study abroad, students will experience studying and interacting with other students from other cultures, learning their way of life through a lens of compassion and empathy.

Interested students should follow the procedures below to apply.
Submit an application for Intercultural Exchange travel (form)
Schedule a 15-minute interview with the Center Director, Ms. Sun, at jsun@lasallehs.org or stop by
her office
---
Short Term Programs
Our Center has already formed strong partnerships with a variety of Lasallian and non-Lasallian schools and programs in different countries starting January 2023. Our partnerships will continue to expand, offering opportunities for our students to truly develop their curiosity, passion, and skills.
Colegio De la Salle Buenos Aires, Argentina - Information flyer


Incoming visit dates: 2/3 - 2/17, 2024
Outgoing visit dates: 5/25 to 6/02, 2024
Summer Enrichment/ Study Abroad
Study Abroad programs are for rising La Salle 9th-12th graders (including graduating seniors in the same summer) interested in enriching their studies through a cultural immersion experience in a country abroad. To register, program participants must contact Ms. Sun at jsun@lasallehs.org or (626) 696-4389 to ensure they pay the correct fees, meet all deadlines, and complete all the required paperwork.

International House, Valencia, Spain

Summer Getaway for Spanish Language and Cultural Studies - Valencia, Spain (No Credit)

A well-structured and supervised summer enrichment program for students interested in learning and practicing Spanish, experiencing an exciting new culture, making international friends, and having an unforgettable experience. Through total immersion, students walk away with new skills, new appreciation for world cultures, new friends from across the world, and new insights into what they can achieve. The program is open to all La Salle students, from beginning-level Spanish speakers to advanced levels.

» 2024 program information and application will be updated when available.

Saint-Denis International School, Loches, France

Summer Enrichment for French Language, Culture and Art Studies - Loches, France (No Credit)

A well-structured and supervised Summer enrichment program for students interested in French language studies and arts, experiencing an exciting new culture, making international friends, and having an unforgettable experience. Through total immersion, students walk away with new skills, new appreciation for world cultures, new insights into arts and history, and new friends from across the world. The program is open to students with all levels of French, including the beginning level, and students interested in or involved in the arts.

» 2024 program information and application will be updated when available.
Summer Enrichment for Chinese Language, Culture, and Art Studies - Chinese Bridge, China (No Credit)

The summer program aims to promote the understanding of Chinese language and culture for high school and college students worldwide, enhance friendly exchanges between Chinese and foreign students, and develop their passion for learning Chinese. The two-week summer camp offers Chinese language lessons, cultural experience activities, and a variety of exchange programs for the participants.

» 2024 program information and application will be updated when available.
Short-Term Host-Families for Visiting Students
Being a host family for visiting exchange students from our partner schools worldwide is a great way to bring intercultural experiences to your home. It also brings opportunities to foster new friendships and lifelong memories.
La Salle College Preparatory encourages our families to join this intercultural adventure by serving host families to welcome our visiting students and share our culture with them. Hosting families will earn La Salle service hours, and host students will be prioritized for travel applications. Currently, host families are not offered stipends or compensation, but In exchange, their host students will be hosted free of charge when visiting a partner school overseas.
If you want to host a visiting student, please submit your form electronically to Ms. Jialin "Sunny" Sun with the link below. For any questions, please get in touch with Ms. Sun at (626)-696-4389 or jsun@lasallehs.org.

Host Families Sign-Up Form (for Short-term Visiting International Students)
Scholarships for Exchange & Study Abroad
Additional Resources
Center Director
Jialin Sun

Sun is a long-time language & cultural studies and international exchange program specialist, and her area of expertise is in outreach programs that promote global education. With a Master's degree in Education Leadership and Management, complemented by a unique cross-cultural background, Ms. Sun channels her passion and vast knowledge to create opportunities that enable all members of La Salle's community to connect with people and cultures through global studies and intercultural exchange. As the Center for Global Initiatives & Cultural Perspectives director, Ms. Sun organizes and oversees all exchange and collaborative programs with Lasallian schools and other partners worldwide. Ms. Sun can be reached at jsun@lasallehs.org.
Prospective La Salle College Preparatory students contact the La Salle Admissions Office at admissions@lasallehs.org for additional information.
DISCOVER LA SALLE
La Salle College Preparatory was founded in 1956. Today, we are the only truly diverse and co-educational Catholic high school in Pasadena.