CARLOW Center for Medical Innovation
Fostering Medical Excellence: La Salle College Preparatory empowers Students to pursue healthcare professions by launching a Medical Center.
The CARLOW Medical Center for Innovation allows aspiring future healthcare practitioners to pursue their passions and practice medicine in high school! With a generous one million dollar grant, our commitment to students and the community is limitless. The mission of the Medical Careers Pathway is designed to equip students with the academic prowess, social adeptness, and professional acumen necessary to succeed in higher education and the medical industry.
The Medical Center will be the first of its kind offered by a Catholic educational institution. It revolutionizes the learning experience by providing a tailored medical environment dependent on students' needs. This program embodies our dedication to cultivating a new generation of medical trailblazers.

---
Medical Careers Pathway Program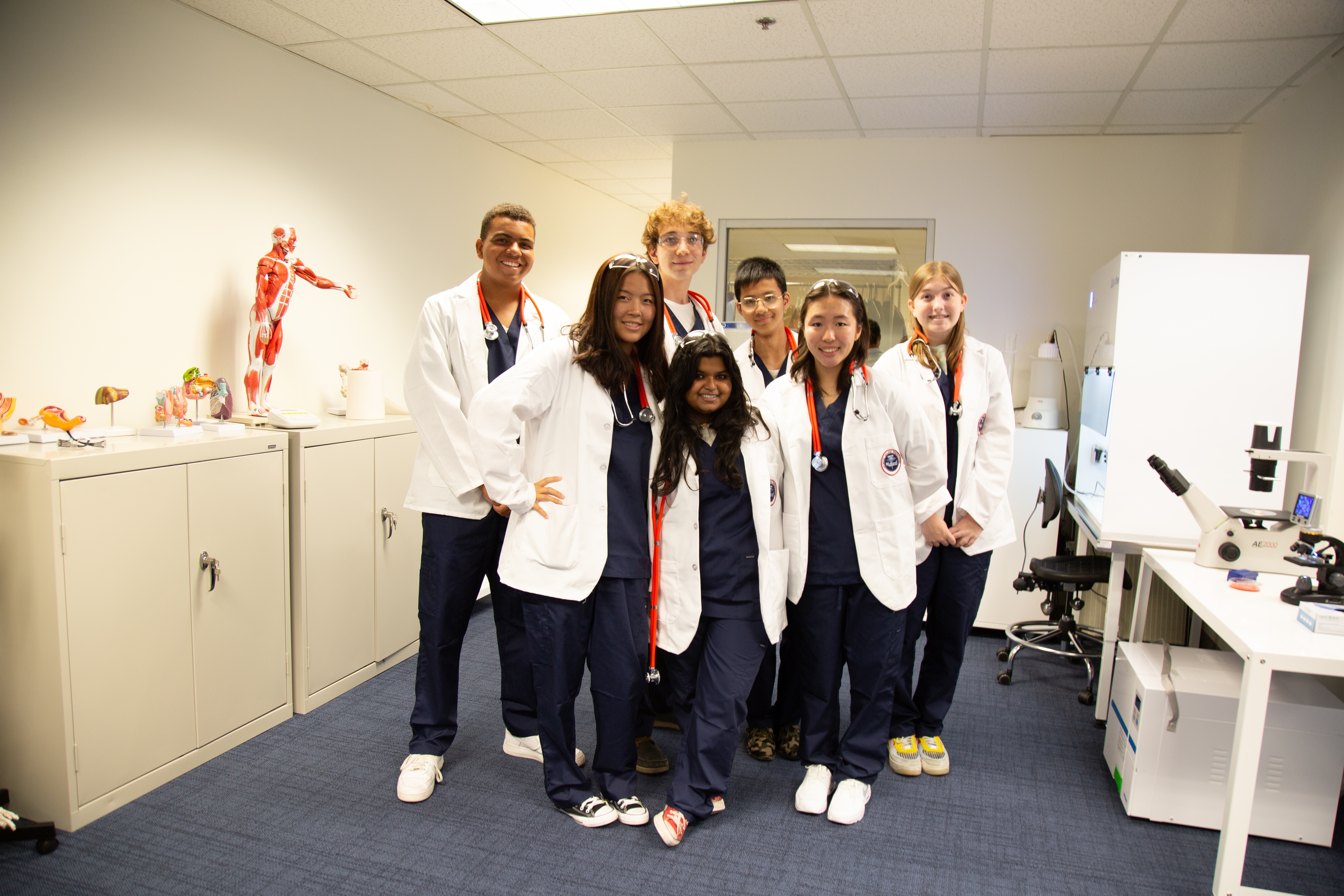 The CARLOW Center for Medical Innovation is open to students interested in various fields in healthcare. In the program, each student will gain valuable experience that will give them a foundation for higher education programs in Pre-Med, Biological and Medical Anthropology, Biochemistry, and Medical Engineering. Students enrolled in the pathway program at the Center for Medical Innovation will be given the opportunity to participate in community networking, career counseling, job shadowing, and student research in partnership with Shriners Hospital for Children® and other local organizations.
Medical professionals across the county will join and provide students with first-hand knowledge and instruction. Additionally, local community researchers will collaborate on our student's medical investigations, providing our La Salle students with local, regional, and national research opportunities.
---
Center Facilities & Equipment
Simulating realistic health care or trauma experiences where students can learn without the risk of injury is difficult. However, The CARLOW Center of Medical Innovation is equipped with virtual facilities and equipment, including interactive patients and authentic learning environments from our virtual care library, including Exam Rooms, Operating Rooms, ICU, NICU, PICU, Outdoor Cityscapes, Residential, Assisted, & Long Term Care Facilities.
Acadicus Virtual Platforms
Acadicus is an exciting virtual reality healthcare platform where students can experience clinical environments relevant to their future and receive extensive medical terminology, communication, and teamwork training across various healthcare environments. By bringing participants together, students will interact with patients and peers inside the VR scenario without the restraints of physical location. The Acadicus curriculum provides realistic trauma simulations to teach students to rely on their training, regulate their emotions, thoughts, and actions, triage patients, and practice complex skills to resolve traumatic medical situations. In addition to an expansive VR library of medical scenarios, this platform allows an instructor to quickly create additional healthcare scenarios most relevant to our students.
Prostheses Center-Caring and Investing in State of the Art Scanners and 3D Printers
Few things in life are harder than being born without a limb or losing a limb later in life. We have invested in high-end scanners and 3D printers to engineer and produce prosthetic arms, legs, hands, and feet to serve all those less fortunate who live life daily without. Young aspiring medical practitioners will become highly trained in the technical skills of the creation of artificial prostheses and consult with experts in the field to hone their skills in the design and application of each prosthetic. With great appreciation for those who served our country, our center will provide engineered prosthetics to help transform the lives of pediatric patients and honor the sacrifice of veterans.

Anatomage Table-Delivering studies in functional Anatomy and Physiology
Our State of Art 3D Anatomage table provides opportunities for our students to visualize human anatomy with the highest level of accuracy. This technology will transform the way kinesiology is taught and how students learn anatomy and physiology. Anatomage bodies provide active physiological responses inside a living human body, simulating and projecting the same responses one would experience in a research laboratory or clinical setting.
The CARLOW Center for Medical Uniforms & Schedule
Our newly constructed facility is located on the ground floor adjacent to the La Salle Library and Resource Center. All students must wear scrubs, coats, and shoes appropriate for the medical/lab environment. Our new Center will be open from 2:25-4:00 pm daily for labs, academic support, and skill practice.
---

Coursework & Skills
The La Salle Center for Medical Innovation Pathway will include:

VR Skills Labs
Academic Courses
Internships
Volunteer Opportunities

Medical Research Studies
Lectures
College Vocational Certifications

Skills Lab:

CPR/AED
First Aid
Gathering Patient Medical History
Vital Signs

Medical Emergency Management
Splinting Broken Bones
Managing Spinal Injuries
Advanced Patient Care
PCC Dual Enrollment:

Introduction to Health Sciences
Medical Terminology
Human Disease

Health Information Technology
Pharmacology for Medical Assistants
Basic Physiology and Anatomy
La Salle's Online Courses:

Medical Terminology
Health, Safety, and Ethics in the Health Environment
Introduction to Health Sciences
Scientific Discovery and Development

Public Health: Discovering the Big Picture in Healthcare
Therapeutics: The Art of Restoring & Maintaining Wellness
Veterinary Medicine: The Care of Animals
Capstone Project
Students will be encouraged to collaborate to present their discoveries and progress. The capstone project aims to drive students to develop deeper learning and complex skill development by bridging critical problem-solving with real-world work experience.
Students who successfully complete the virtual reality health skill scenarios, 50 hours of community service in the health-care industry and 2-4 course credits from Pasadena City College or La Salle's online virtual course library will earn a Verified Certification of Core Learning.
---
Center Director
Elizabeth Parga, M.S. Chemistry

With a Master's Degree in Chemistry and a Bachelor's in Biology, Ms. Parga teaches a plethora of different science courses, including AP Biology, Human Anatomy, Forensic Science, Sports Medicine, and Chemistry. Before becoming an instructor, Ms. Parga worked in stem cell and cancer research at the City of Hope and Charles Drew School of Medicine. During her tenure in the lab, she became a published cancer research scientist with qualifications in cancer genomics and stem cell research and therapy. Her choice to transition into teaching came from her zeal for science and wanting to positively impact young lives. Her mission is to provide all the necessary resources, tools, and support to make each student competitive and successful in any science career. She can be reached at: eparga@lasallehs.org.
The CARLOW Center for Medical Innovation at La Salle College Preparatory is generously funded by a grant from the Carrico Family Foundation.
Prospective La Salle College Preparatory students contact the La Salle Admissions Office at admissions@lasallehs.org for additional information.

DISCOVER LA SALLE
La Salle College Preparatory was founded in 1956. Today, we are the only truly diverse and co-educational Catholic high school in Pasadena.