Center for Cinematic Arts
La Salle opens a new Cinematic Center with state-of-the-art facilities for aspiring multimedia students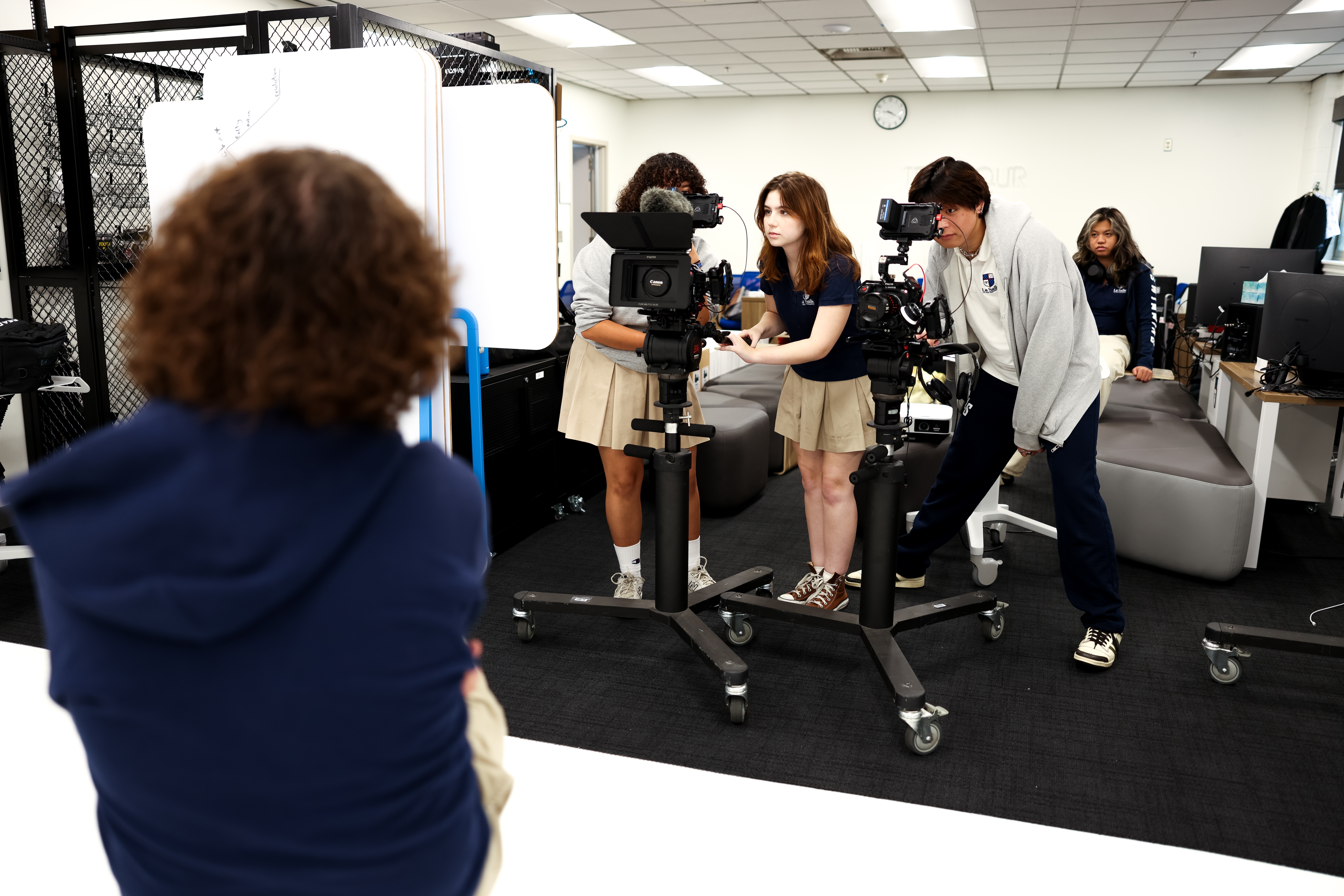 Situated within a 25-mile radius of Burbank and Culver City, which house major studios like Warner Bros., Disney, and Universal, the establishment of La Salle's Cinematic Arts Center was not a question of if but a matter of when. The Center for Cinematic Arts offers an immersive environment fostering digital storytelling and honing filmmaking skills. Unlike the traditional classroom with lectures and mandatory assignments, this center offers an environment that empowers students to express their individuality and provides a platform and tools for authentic storytelling. The Center is a place for studying industry standards and best practices, equipping film and media students with in-depth content knowledge.
---
Facilities & Equipment
A well-equipped facility and high-quality camera gear provide a conducive environment for creativity and production, offering adequate space for scriptwriting, filming, and editing. Additionally, industry-standard camera equipment ensures that students can capture stunning visuals and achieve the desired cinematic aesthetics, enhancing the overall quality of their projects. Our Cinematic Center fosters collaboration and innovation, crucial for creating impactful multimedia content. These resources serve as the foundation for students' visions to become reality.
The Cyc Wall
A cyclorama, a cyc wall, is a blank, modular walled background with curved surfaces and seamless corners. It can supply what's called an "infinity background." This makes the studio seem larger than it is and allows users to hide external equipment off-screen easily. In still photography or video production, this helps make your background almost 'disappear,' leaving many possibilities for lighting. This is great for commercials, giving the products full attention, or using a green screen.
Cameras
Canon EOS C70 is a compact and versatile cinema camera designed for content creators seeking high-quality video production in a portable form factor. Combining the power of Canon's Cinema EOS system with the flexibility of a mirrorless design, the EOS C70 features a Super 35mm Dual Gain Output (DGO) sensor. It supports 4K video recording up to 120fps. It offers professional-level features like Dual Pixel CMOS Autofocus, high dynamic range recording with Canon Log 2 and 3, and the ability to capture pristine 16+ stops of dynamic range.

Canon EOS R signifies a pivotal step in Canon's imaging evolution, introducing a full-frame mirrorless camera that balances innovative technology with traditional craftsmanship. Built around a 30.3-megapixel sensor, the EOS R captures richly detailed images with remarkable clarity. At the same time, the Dual Pixel CMOS autofocus system covers a vast area of the frame, delivering swift and precise focusing. The camera's customizable, high-resolution electronic viewfinder offers a seamless shooting experience, and its adaptable RF mount not only opens doors to new optical possibilities but also maintains compatibility with EF and EF-S lenses through adapters.

Canon EOS R5 stands as a groundbreaking mirrorless camera, pushing the boundaries of imaging technology for photographers and filmmakers. Featuring a remarkable 45-megapixel full-frame sensor, the R5 can capture stunningly detailed photographs and 8K video recording, setting new standards for resolution and clarity. With its advanced Dual Pixel CMOS II autofocus system, offering 5,940 selectable AF points, the camera achieves unparalleled focusing accuracy and speed.
Lenses
Canon CN-E Sumire Prime Lenses represent a pinnacle of cinematic excellence, purposefully designed to infuse visual storytelling with a distinct and evocative character. Drawing inspiration from the Japanese concept of "Sumire," which means a flower with deep color and subtle gradations, these lenses offer a unique blend of stunning imagery and artistic expression. With a consistent T-stop of T1.5 across the set, these full-frame compatible prime lenses deliver remarkable low-light performance and exquisite bokeh. Their carefully crafted optical construction imparts a cinematic softness to highlights while maintaining exceptional sharpness in the focal plane. They are built for professional cinematographers.

Available Lenses: 35mm T1.5 / 50mm T1.5 / 85mm T1.3 (PL Mount Lenses with a PL→RF Mount Adapter)

Canon's RF mirrorless lenses exemplify cutting-edge optical engineering within a compact and versatile design tailored to complement the full potential of the RF mount ecosystem. These lenses deliver exceptional image quality, high-resolution clarity, and reduced aberrations by harnessing advanced visual elements and coatings. The combination of fast and accurate Dual Pixel CMOS autofocus, along with the wide RF mount's capabilities, results in remarkable precision and speed in capturing both stills and video.

16mm f2.8 / 24mm f1.8 / 35mm f1.8 / 50mm f1.8 /

15-35mm f2.8 / 24-70mm f2.8 / 70-200mm f2.8

28-70 f2.0

Rokinon XEEN CF Cine Lenses epitomize precision and versatility in cinematic imaging, catering to the demands of professional filmmakers and cinematographers. Engineered with a focus on optical excellence, these prime lenses offer an expansive range of focal lengths, providing the creative freedom to capture scenes with utmost clarity and creative control. The XEEN CF series boasts a lightweight and compact carbon fiber construction, making them ideal for agile shooting setups. With a consistent 11-blade aperture and reduced focus breathing, these lenses deliver seamless transitions and breathtaking bokeh.

16mm T2.6 / 24mm T1.5 / 35mm T1.5 / 50mm T1.5 /

85mm T1.5 (EF Mount lenses with EOS R→EF Adapter)

Vazen anamorphic lenses epitomize cinematic artistry by offering a distinctive and immersive visual storytelling experience. These lenses are designed to capture imagery with a unique anamorphic flare characterized by widescreen aspect ratios, horizontal lens flares, and captivating bokeh. Renowned for their exceptional build quality and optical precision, Vazen anamorphic lenses cater to filmmakers and cinematographers seeking to infuse their projects with a vintage cinematic aesthetic.

Available Lenses: 28mm T2.2 1.8x / 40mm T2 1.8x / 65mm T2 1.8x
Edit Bay
Equipped with The Apple 24" iMac, it stands as a compact powerhouse of innovation, merging cutting-edge technology with a sleek and vibrant design. Boasting a stunning 4.5K Retina display that captivates with its lifelike colors and crystal-clear visuals, the iMac offers a remarkable canvas for creative endeavors and productivity. Apple M1 chip with 8-core CPU with 4 performance cores and 4 efficiency cores, 8-core GPU, and 16-core Neural Engine
8GB unified memory

512GB SSD storage

Two Thunderbolt / USB 4 ports

Two USB 3 ports

Gigabit Ethernet

Magic Mouse

Magic Keyboard with Touch ID
All computers have been preprogrammed with an Adobe Suite License containing Premier Pro, After Effects, Lightroom, Photoshop, Illustrator, and InDesign. It provides a comprehensive ecosystem of professional software tools that empower individuals and teams to bring their imaginative visions to life. Encompassing a diverse array of applications such as Photoshop, Illustrator, Premiere Pro, After Effects, and more, Creative Cloud caters to graphic designers, photographers, video editors, animators, and beyond.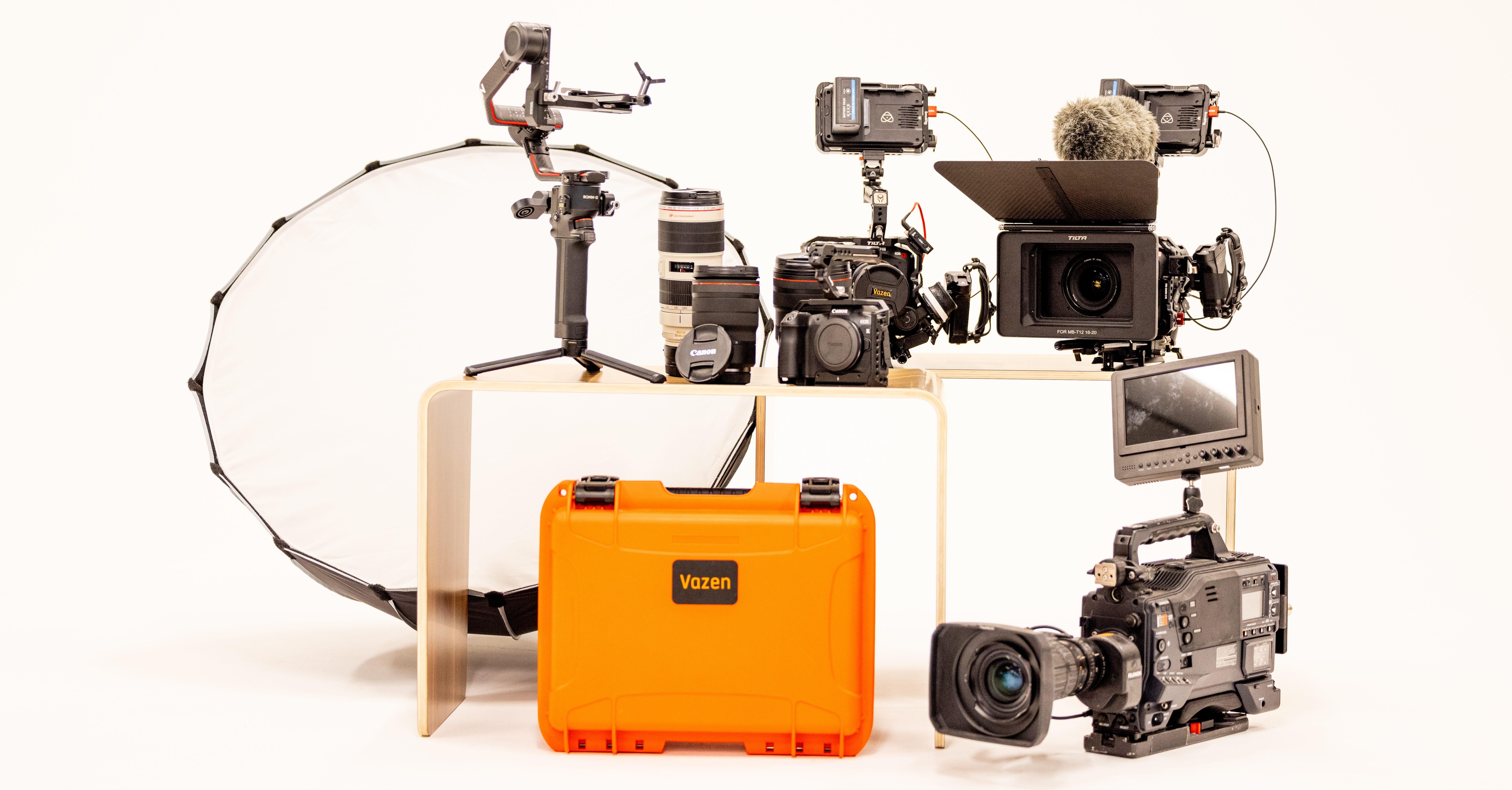 ---
Coursework & Skills
Our Film and Media Pathway will begin with a basic understanding of the production process, regardless of the discipline. Upon completing the fundamental module, students can choose specialties, like screenwriting and directing, and learn about specific aspects of production that they feel drawn to.
Outside classroom instruction, students will go on-set for internal and external projects, collaborating with students, administration, and outside clients. Being a part of our program means you are an official member of our Production Crew, giving you leadership opportunities that include internships/apprenticeships, industry networking, independent project creation, and community service. Upon completion of the Cinematic Arts Pathway Program, students will earn a certificate of completion. Students can also do a capstone project to earn a cord to wear during graduation.

Skill Modules
Production Process

Pre-Production

Production

Post-Production

Directing

Camera Operation

Cinematography

Content Creation for Social Media

Script Writing

Lighting

Sound Design / Sound Capture

Editing

Slicing, Stitching, and Sequencing

Visual and Audio FX

Media Technologies
Capstone Project
To Be Determined by the Center Director
Additional Opportunities
Internships and Apprenticeships with Directors/Creators in the industry

On-set days on projects currently in production

Profile building via promotion of La Salle

Networking with industry professionals
Center Director
Akinty Carter

With over seven years of experience working in production and freelancing as an independent camera operator. Akinty specializes in camera operation, working on independent films, marketing campaigns, and promotional materials for organizations like Netflix, YouTube, and the B-League (Japanese Pro-Basketball League). Akinty brings a work ethic and background uniquely tailored for teaching current industry standards to our students, having attended USC and working on sets and in studios across Hollywood and the world. He can be reached at: acarter@lasallehs.org.
Prospective La Salle College Preparatory students contact the La Salle Admissions Office at admissions@lasallehs.org for additional information.
DISCOVER LA SALLE
La Salle College Preparatory was founded in 1956. Today, we are the only truly diverse and co-educational Catholic high school in Pasadena.