Championships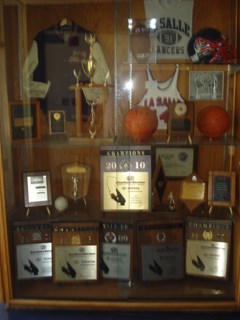 High school athletics has become a very competitive arena for all schools. La Salle understands that and will not be left behind. Lancer coaches essentially work with our programs on a year-round basis to prepare for league play with the goal of venturing deep into the CIF playoff rounds. La Salle is proud to offer an athletic program fielding 23 sports that enables our student-athletes to participate on a variety of teams throughout the school year.

Lancer athletics enjoys a long tradition of success in the San Gabriel Valley boasting 23 CIF Championships, 18 CIF Runner-Up titles and over 190 varsity league championships. Our most recent individual CIF title was hoisted by Daniel De LaTorre by capturing the Division IV title in boys' cross country. Daniel also claimed La Salle's only individual state title in 2012 by winning the Division IV cross country crown. The girls' volleyball program captured their second and back-to-back CIF team title by claiming the 2013 Girls' volleyball has been in the CIF finals three consecutive years and won two titles. The future is bright for Lancer athletics and the expectations are high.

GO LANCERS!!!
DISCOVER LA SALLE
La Salle College Preparatory was founded in 1956. Today, we are the only truly diverse and co-educational Catholic high school in Pasadena.