Counseling Resources

Our counseling team receives several academic and extracurricular opportunities that may be of interest to our families. We compile these resources together into one convenient page. Resources consist of internships, volunteer opportunities, and enrichment programs hosted by outside organizations. We encourage families to look through this every week and participate in programs that are of interest to them. Students are encouraged to utilize this resource to find meaningful activities which may enhance their passions and college competitiveness.
COLLEGE FAIRS

2023 Spring In-Person College Fairs
Greater Los Angeles – April 27 & 28
2023 Spring Virtual College Fairs
February 19

March 19

April 23
ENRICHMENT OPPORTUNITIES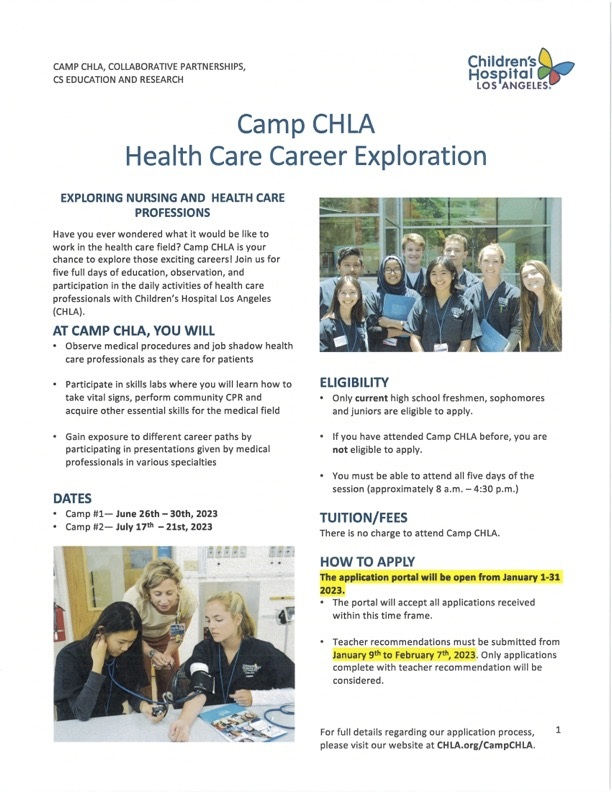 Building the Pipeline for Women in Engineering and Medicine
We're very excited to announce upcoming sessions of the Perry Virtual Experience in January and February 2023. The Perry Virtual Experience is a free, 2.5-hour, interactive online experience for high school and college-aged women who are interested in pursuing careers in orthopaedic surgery and engineering. Participants will hear from women leaders in these fields and dive into online orthopaedic simulations and biomechanics experiments. Additional information can be found on our website: https://perryinitiative.org/pve/
Women in high school and college who have an interest in science, medicine and/or engineering are now invited to register for a session of the Perry Virtual Experience. Students may fill out the online registration for one session that best fits their schedule. Most sessions are available to participants in any location, but some sessions are for a focused geographic area. The upcoming program dates are:

February 4th, 2023 @ 10:00 am - 12:30 pm EDT
February 22nd, 2023 @ 6:00 pm - 8:30 pm EDT
Details for each session can be found at: https://perryinitiative.org/calendar/

SCHOLARSHIPS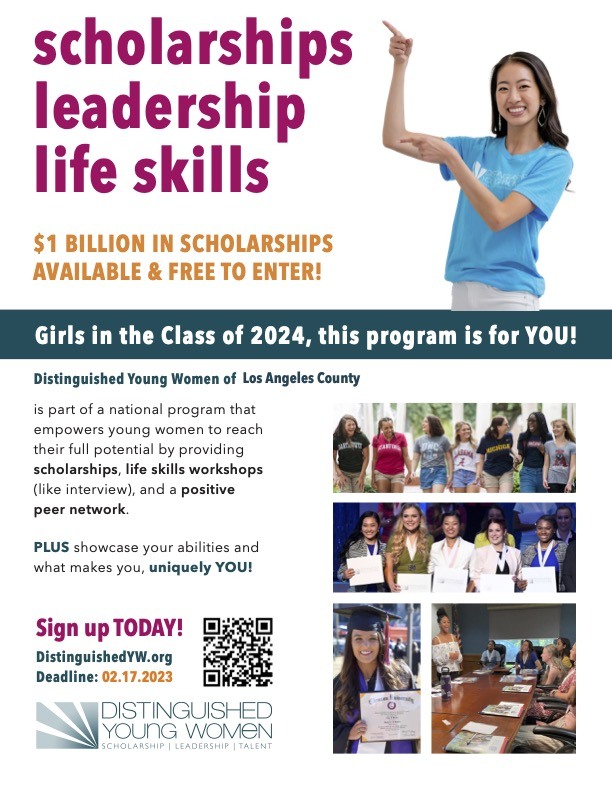 The scholarship is designed to identify and reward outstanding high school seniors who have demonstrated an ability to excel in the fields of academics, extra-curricular school activities and community involvement. It is available to any male, graduating senior who is enrolling in a four-year undergraduate college program that commences in the fall of 2023.
The Men's College Scholarship Program was launched in 2022 with $50,000 awarded to 75 deserving recipients. This year we are thrilled to offer more than $50,000 in scholarships to inspire college attendance and academic success by young men. Scholarships will range from $500-$1,000 and will be issued in the form of a check for recipients to use as desired.
The application may be found here.
The deadline for applications is April 3, 2023.
Sierra Madre Women's Club
A $1,500 award is being offered by the Sierra Madre Woman's Club.
They are looking for students who have the following:
A spirit of service, altruism, and volunteerism

GPA of 3.5 or higher

Taken rigorous courses (APs/Honors)

Shows leadership potential

Participated in extracurricular activities such as music, art, drama, chorus, or sports
The completed application packet must be received by 3 pm Saturday, March 25, 2023.
Abbott and Fenner Scholarship Program
Abbott & Fenner Business Consultants are pleased to be able to continue with our scholarship program for the 17th year.
We will be awarding up to $1,000 to the winner(s) each year.
Scholarship Deadline - June 10, 2023.
Application Process
Students will submit an essay on the topic that appears on the scholarship page of our website. Full details are available on our site.

Incredible Health list of scholarships and grants for nursing students

Incredible Health is a leading career platform for nurses to get connected with full-time jobs, career resources, and a thriving community of other nurses in the U.S. We're looking for ways to help more nurses, especially those just getting started in the field, find the job they wanted. Check out their list of scholarships and grants.
Naval Reserve Officer Training Corps (NROTC) College Scholarship

Who: Seniors
The Naval Reserve Officer Training Corps (NROTC) offers college scholarship opportunities to students if this may be a path they'd like to explore.
Attached is a one page flyer that gives basic information and contact information.

Student Scholarship Awards from Study.com

Study.com has recently developed scholarships to help make higher education more accessible.
Our Student Scholarship Awards from Study.com were designed to help students ease the financial burden that comes with earning a college degree. These scholarships each offer a $500 academic award to their winners, and have an application deadline of September 1st. Here are the scholarships featured on our scholarship awards page:
We want to help as many students as possible. If you feel these scholarships would provide beneficial resources to your community, please feel free to link to them on your College Financial Aid page.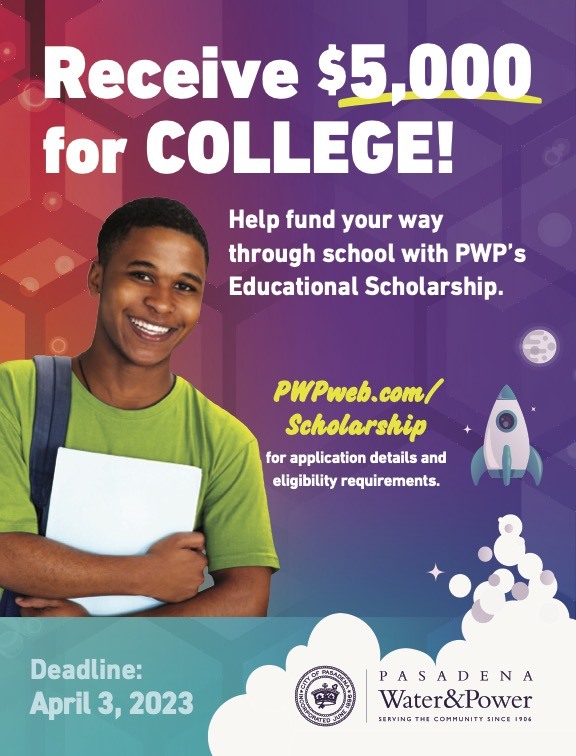 PWP offers this scholarship to 2 outstanding high school seniors in Pasadena, with a first-place scholarship of $5,000 and a second-place scholarship of $2,500 to a two or four-year accredited, post-secondary institution for the upcoming academic year. To apply, students must write a minimum 500-word essay about a topic related to the utility industry and submit their applications by April 3, 2023. Students can find out more information at the following website: www.pwpweb.com/scholarship, and I've attached a flyer as well.
The eligibility requirements for the scholarship are the following:

Currently be a senior at a high school in the City of Pasadena; and able to provide academic transcripts.

Applicant must be a resident within the Pasadena Water and Power territory.

Applicant must plan to be enrolled as a full-time student in a two- or four-year accredited post-secondary institution in the upcoming academic year.
BigSun Scholarship
The BigSun Organization is proud to be able to continue to help young athletes succeed in their academic pursuits. We are offering an annual scholarship to a deserving student. All student-athletes are eligible for this award, regardless of which sport they are participating in or what their capacity in that sport is.
Deadline - June 19, 2023
Amount of Award - $500.00
The successful applicant will be a high school senior or be attending a post-secondary institute and currently involved in some sport at that institution or in the community..
Please visit our website at http://www.bigsunathletics.com to learn how to apply.
SUMMER ENRICHMENT PROGRAMS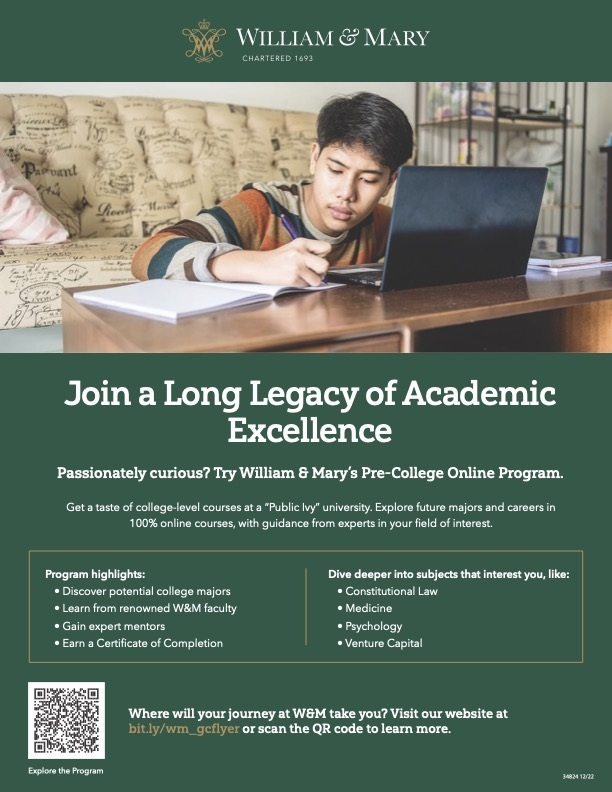 Do you know students who are intellectually curious? Who love to discover how things work? Who are looking to expand their skills, knowledge and passions?

This summer, we invite those students to attend our Clarkson University Horizons program!

This week long, overnight summer camp experience on Clarkson University's campus in Potsdam, New York, is offered for middle and high school students explore STEAM (Science, Technology, Engineering, Arts and Mathematics) concepts in a fun and engaging atmosphere surrounded by likeminded peers.
Summer 2023 dates:
Sunday, July 9 - Friday, July 14
Sunday, July 16 - Friday, July 21
Registration is now open and space is limited! The deadline to register for 2023 sessions is May 21, 2023.

The Columbia Climate Corps experiences are climate and sustainability-focused traveling programs that combine intentional travel with in-depth educational opportunities. Students gain critical skills and knowledge through excursions and place-based learning, discover and develop new and existing passions around climate change, and build lasting friendships.

Learn more about our summer programs and have your questions answered during the February 9 info session at 4:00pm ET.

RSVP for Info Session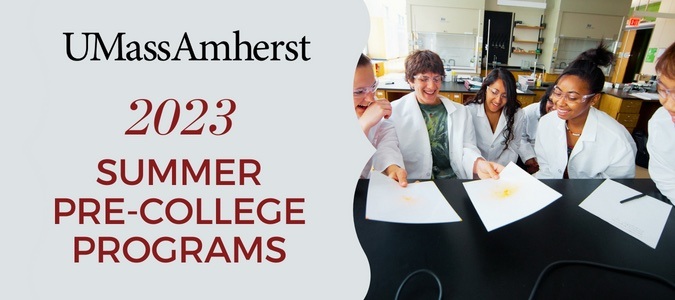 Summer 2023 Pre-College Programs Virtual Fair
The Summer 2023 Pre-College Programs Virtual Fair, a virtual event that provides students and their families the opportunity to learn about academic summer programs at top US colleges and universities. At the fair, attendees may visit virtual booths, where you can ask questions via text or video chat with summer program representatives. Registration is free to attendees.

2023 Summer Pre-College Program Fair
Saturday, January 28, 2023
1:00pm - 2:30pm EST

REGISTER NOW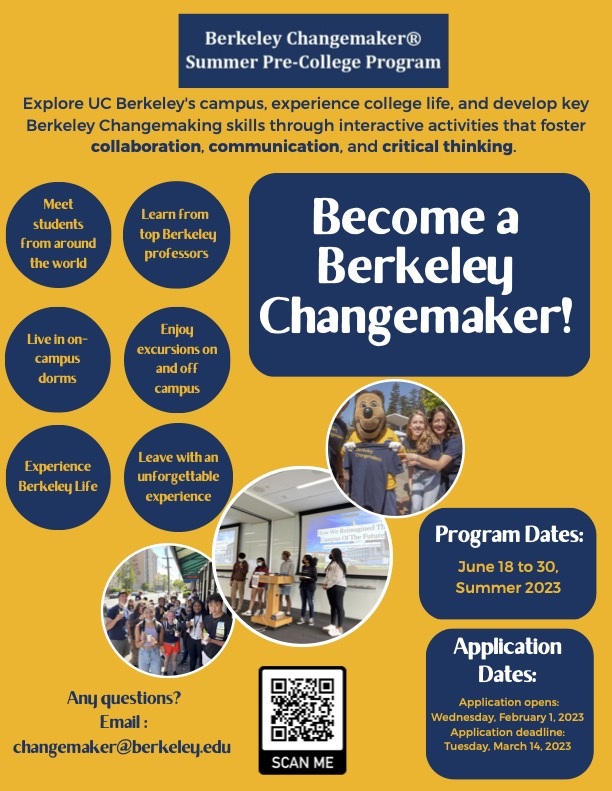 Worcester Polytechnic Institute
JULY 9 - 21 (SESSION 1)
JULY 23 - AUG. 4 (SESSION 2)
Rising 10th, 11th & 12th graders are invited to take a deeper dive into two topics of your choice, a STEM major and a humanities minor, during one of our two residential summer programs. Courses are taught by WPI faculty, and include hands-on activities, demos, and discussions. Students also get a glimpse into college life by eating in the dining hall, living in the residence halls, and enjoying evening activities.
Check out all Frontiers offerings here.
Applications open on Tuesday, January 17th!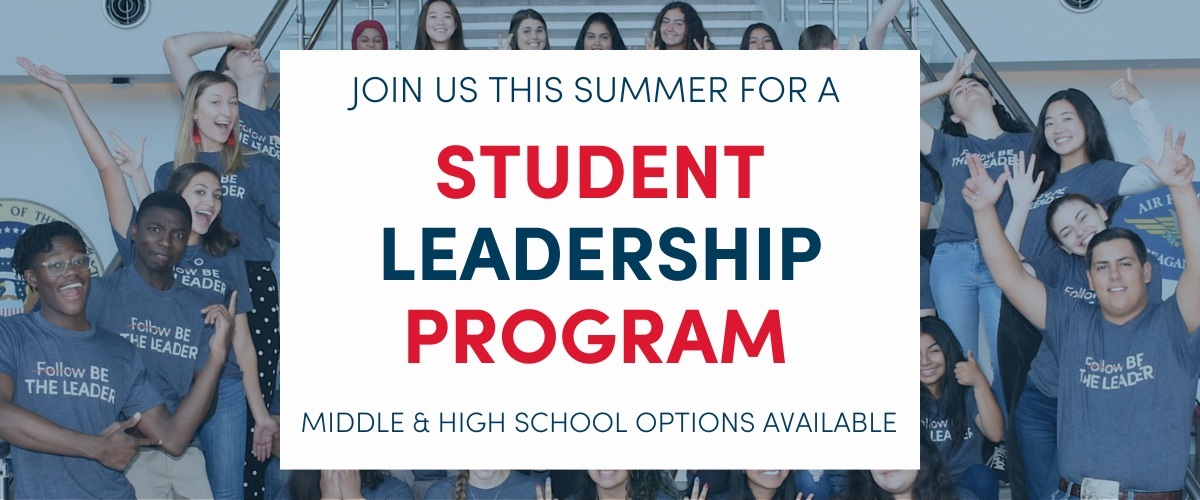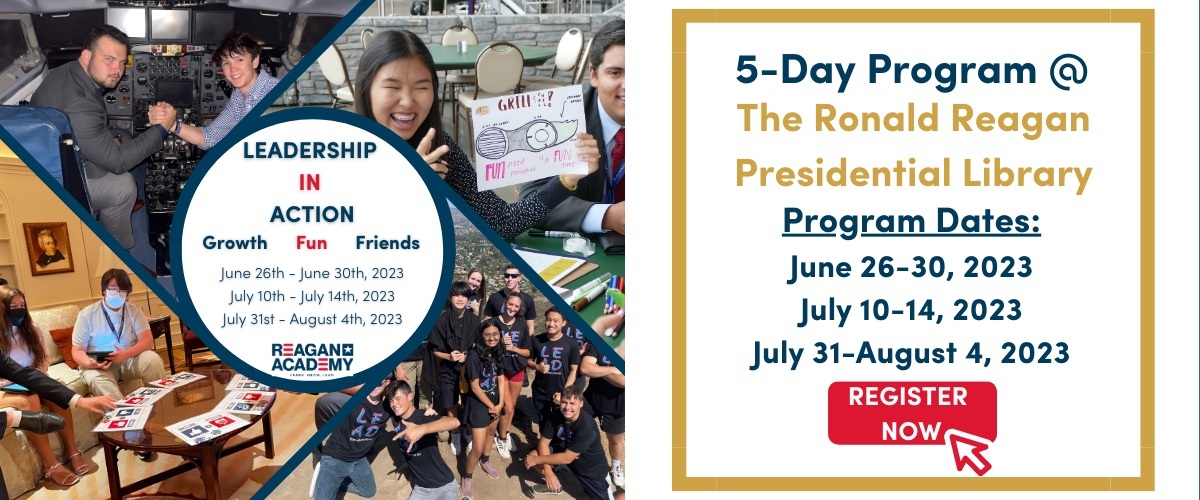 Next summer, we are offering five pre-college programs, each of which provides rigorous and collaborative college life experiences that will enable students to gain a strong sense of their personal and academic potential. Here is a brief overview of each:

Summer Preview is a one-week, non-credit residential or commuter program in which students explore one subject of interest while previewing the college experience. Students must be entering eighth grade or their freshman or sophomore year of high school in fall 2023.


Pre-College Digital Filmmaking
This program is a three-week, intensive production workshop that offers an overview of the production process, from conceptualization to post-production. This includes story structure, the principles of cinematography, and editing. Students are immersed in the creativity and technique of cinematic storytelling and challenged to create entertaining narrative projects.
Session A (June 25–July 15, 2023)

Pre-College Cinematography
This one-week intensive workshop immerses students in the concepts, creativity, and techniques of cinematic lighting through a combination of lectures and hands-on lighting exercises. Students will explore such concepts as composition, framing, blocking, lens choice, camera movement/placement, exposure, lighting techniques/equipment, shot design, and set protocol.
Session A (June 25-July 1, 2023)
Session B (July 30-August 5, 2023)
Session C (August 6-August 12, 2023)
Media Parks: Cinematic and Televisual History of Theme Parks
In this three-week intensive program, students will explore theme park history, and the evolution of the relationship between moving image media (film, television, and video games) and theme parks. The program will include lectures, screenings, discussions, and guided site visits to Disneyland, Disney California Adventure, Universal Studios Hollywood, Knott's Berry Farm, and Warner Brothers Studios. In class, students will review case studies of theme park rides and "lands" by researching and analyzing scholarly texts, reference films, television shows, and video games.
Through these topics, students will be introduced to the fundamental skills of college-level academic writing, practice reading comprehension on college-level academic sources, and be challenged to practice critical thinking and observation skills through several reading and writing assignments.
Session A (June 25–July 15, 2023)

Pre-College Writing for TV: Big Ideas for the Small Screen (On-Campus & Online)
This track mirrors the practice of professional writers in the world of episodic television and digital media by teaching students how to develop original series concepts and navigate the contemporary marketplace. Under the guidance of a TV industry professional, students learn how to identify and capture the tone, characters, dialogue, and themes that make their stories unique.
Session A (June 25-July 15, 2023)
Session B (July 16-August 5, 2023)
Traditional Animation (Online)
Students make their own animated films and meet Hollywood's most accomplished professionals at the world-famous UCLA Animation Workshop. The Traditional Animation track teaches students how to write, storyboard, and draw their own animated film. This track will be offered as an online program with synchronous course meetings, practical exercises, and guest speakers. Students will learn traditional hand-drawn animation methods using a Wacom tablet/mouse, and utilize Pencil2D and Adobe Premiere to complete their animated projects. No drawing experience is required, just limitless imagination!
Session A (June 26 – August 4, 2023)



Pre-College Programs* - Summer of 2023
*Limited scholarships available for programs above.
We invite you to join us for our upcoming Discover Sessions to learn more about our programming.
Wednesday, January 25, 7:00-8:00PM EST

Our online application.



The priority deadline to apply for Wharton Global Youth's 2023 On-campus Summer Programs and Location-based Summer Programs for high school students is January 25. Whether you choose to explore finance, entrepreneurship, leadership, product design, data science, or sports analytics, this is your chance to immerse yourself in business on a top college campus with Wharton professors and exceptional peers. Submit your application by the priority deadline and receive a decision on March 15. We can't wait to meet you!
Explore On-Campus Programs and Apply Now
Explore Location-based Programs and Apply Now
Northeastern Accelerate Pre-College Programs 2023
Our residential Boston and Oakland campus programs are taught by our internationally acclaimed faculty, allowing students to gain extensive, hands-on, experiential education in subjects including engineering, health sciences, ethics & emerging technologies, entrepreneurship, and more. Accelerate Pre-College Programs combine innovative content, experiential learning, and a world-class environment—giving talented high school students a true Northeastern experience.
The Application Process
Our Summer 2023 residential programs are designed for rising juniors and seniors. We are looking for talented, highly motivated students who are passionate about the subject area, and who are ready for a rigorous program. We mimic the Northeastern undergraduate application review process by performing a holistic review—examining all areas of the application (academic, extracurricular, etc.). equally. Application requirements include:
Transcript: An unofficial high school transcript or report card.

Personal statement: A short statement (maximum of 600 words) describing the student's passion for the subject matter, their motivation for enrolling in the program, and what they hope to gain from the experience

Recommendation: Students may submit a teacher or counselor recommendation, but this is not required.

Financial aid: When completing the application, there is also a financial aid section for consideration of our need-based aid awards.
There is no application fee for the program, and students who apply by the early application deadline, February 28, 2023, will receive a $500 discount on tuition. More information on the application and financial aid, including important deadlines, can be found on our website.
DISCOVER LA SALLE
La Salle College Preparatory was founded in 1956. Today, we are the only truly diverse and co-educational Catholic high school in Pasadena.