Four Year Art Program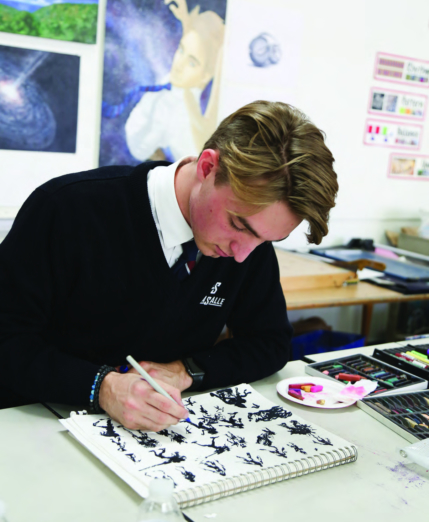 Since the Arts have been recognized as a major discipline and La Salle High School is dedicated to a college preparatory curriculum, the Visual Arts Department has developed a four-year Visual Arts Curriculum and so has the Performing Arts Department. La Salle High School's Visual Arts and Performing Arts Departments attract and serve students interested in pursuing higher education in the arts.
La Salle High School is the only high school in the San Gabriel Valley that offers these four-year programs.
La Salle graduates have been accepted to top-rated schools with programs in fine arts, theater, movie production, design and dance. Schools include:
Art Center College of Design
Berklee School of Music
Calarts
Chapman University
Cooper's Union
Emerson University
Loyola Marymount University

Otis College of Art and Design
Parsons School of Design
RISD
School of the Art Institute of Chicago
The University of California at Los Angeles
The University of California at Irvine
The University of Southern California
Performances/ showings include:
Art Show
AP Art Show
Band Concert
Choir events
Dance concerts
Jazz Band concerts
Musical production
Theater productions
Students in all disciplines have won awards in their respective art form, whether it is visual art, dance, film, music and theatre.
La Salle High School offers four-year programs for both Visual Arts and Performing Arts in the following disciplines:
DISCOVER LA SALLE
La Salle College Preparatory was founded in 1956. Today, we are the only truly diverse and co-educational Catholic high school in Pasadena.