May 13, 2022
Class of 2022 Claims Back-to-Back Victory with the Return of Showdown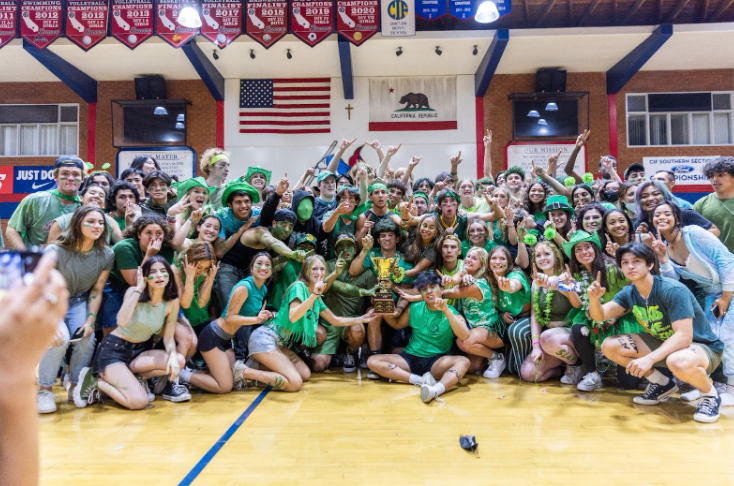 After a two year hiatus, our Lancer Showdown returned as spirited as ever, with the 8th annual Showdown. A class vs class competition, the Showdown took place May 12th in the Duffy Lewis Gymnasium.
Having the Showdown again was a welcome and joyous occasion. Even though the Freshmen, Sophomores, and Juniors had not participated in one before, they showed up and brought their ready-to-go energy.
The event was unforgettable and action-packed as each class, represented by their class color, battled it out with wacky and fun-filled games and challenges to see who would reign the Showdown Champions this year.
We are happy to report, the Class of 2022 has successfully accomplished defending their Showdown title and are now back-to-back Champions!
The deciding factor came down to the final event as the Seniors won the balloon pop, securing victory over the Freshmen (2025) and Sophomores (2024), who tied for second. Had the Freshmen won the balloon pop and the Seniors came in third, they would have tied.
The Freshmen have not been this impressive since the Freshmen class of 2017, who, coincidentally, had the same class color of orange.
The night was a great and well-deserved time for everyone to spend together with their classmates and to show off their skills and pride for their class. Students gathered for a tailgate party after the games, which included inflatables, face painting, class cheers, and snacks hosted by the Alumni.
Some of the games have changed since the original showdown in 2014, but the fierce competition and class spirit has remained just as awesome and engaging.
Congratulations again to the Class of 2022!
Classes are already talking about next year's games. Maybe it's time to have the Alumni Showdown, who's in?
DISCOVER LA SALLE
La Salle College Preparatory was founded in 1956. Today, we are the only truly diverse and co-educational Catholic high school in Pasadena.