​Class of 2025 Registration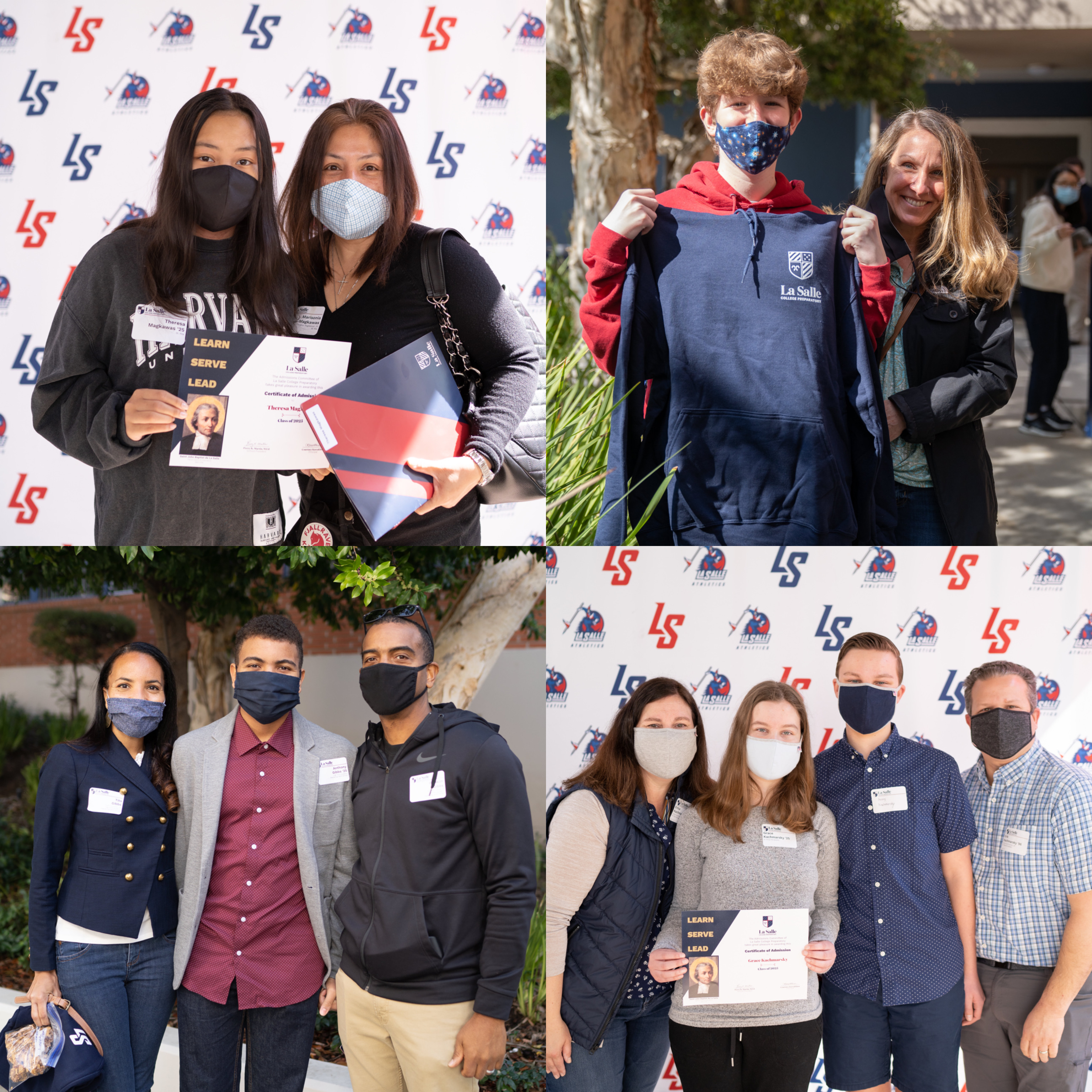 Welcome, Class of 2025 students and parents! We are excited to officially welcome you to our La Salle College Preparatory family! Below, you'll find important information on how to officially become a Lancer!
Registration Information Update: March 17, 2021

Registration: Thank you to all those that have officially registered with us! If you have not yet registered, please schedule an in-person or virtual registration appointment by clicking here. If you do not intend to register at La Salle, please complete this form at your earliest convenience.
Placement Tests: On Wednesday, March 17th, all those that registered received a link for their respective placement test(s). Please email admissions@lasallehs.org if you have any questions about the placement tests.

Important Next Steps
Receive Your Acceptance Packet and Celebrate - You did it! Acceptance packets were mailed on Friday, March 5th! Be sure to look out for your packet, as it contains your official acceptance letter, personalized course selection form, and a few special gifts from our Admissions Team and Student Ambassadors. If applicable, your packet will also include your financial aid award decision and/or scholarship information. We invite you to take a photo and/or video with your acceptance packet and share it on social media! Be sure to tag us as well on Instagram (@LaSallePas), Twitter (@LaSallePas) and Facebook (La Salle College Preparatory). If you'd like to purchase some La Salle gear before or after your registration appointment, email our Admissions Team at admissions@lasallehs.org!
Schedule a Registration Appointment - Registration is where you begin the enrollment process. We will be hosting two registration days this year - Friday, March 12th from 1:00 PM to 4:00 PM and Saturday, March 13th from 9:00 AM to 12:00 PM. At your appointment, you'll meet with an academic counselor, members of our Finance Office, and have an opportunity to purchase new La Salle gear! Appointments typically last about 15 to 20 minutes.
Complete Your Enrollment Contract - Upon scheduling your registration appointment, you'll receive a link to complete the 2021-2022 Enrollment Contract. The contract also requires you to select your desired tuition payment plan. Please carefully review and submit your contract prior to your registration appointment. Click here to access the 2021-2022 Enrollment Contract.
Attend our Accepted Student Social Events - Our current parents and students are eager to welcome you to La Salle. Join us on Tuesday, March 9th at 7:00 PM for our Virtual Parent Meet and Greet Event and Thursday, March 11th at 7:00 PM for our Virtual Student Meet and Greet Event! Both events will be excellent opportunities to hear from our current Lancer family and ask questions about what it means to join this amazing community! Grab a cup of coffee or cocoa (using the Starbucks card included in your mailed acceptance packet) and enjoy the events! Click here for the Parent Meet and Greet Event Zoom link and click here for the Student Meet and Greet Event Zoom link.
Attend Your Registration Appointment - Join us for your scheduled registration appointment! To prepare for your appointment, be sure to review our Class of 2025 Registration Booklet, along with the other documents included in your mailed acceptance packet. We also ask that you review our Course Selection Presentation, ahead of your registration appointment. Note: Your registration fee payment of $900 (check preferred) and tuition billing information will be collected during the registration appointment.
Contact Information and Questions
Admissions Officers Charlie Guillen and Suzy Rettig

If you have general questions about next steps or the registration process, please contact our Admissions Team.
Email: admissions@lasallehs.org
Phone: (626) 696-4300

Chief Financial Officer Robert Packard

If you have questions about tuition payments, financial aid awards and/or scholarships, please contact CFO Robert Packard.
Email: rpackard@lasallehs.org
Phone: (626) 696-4334

Assistant Principal Tina Bonacci

If you have questions about our Summer Programs, please contact Assistant Principal Tina Bonacci.
Email: tbonacci@lasallehs.org
Phone: (626) 696-4311
Additional Resources, Documents and Links
Below, you'll find links to to supporting documents, as well as other resources to help make your registration at La Salle as smooth and seamless as possible!

Again, Welcome Class of 2025!
DISCOVER LA SALLE
La Salle College Preparatory was founded in 1956. Today, we are the only truly diverse and co-educational Catholic high school in Pasadena.