November 10, 2021
Dr. Richard Gray Memorial - San Miguel Scholarship Fund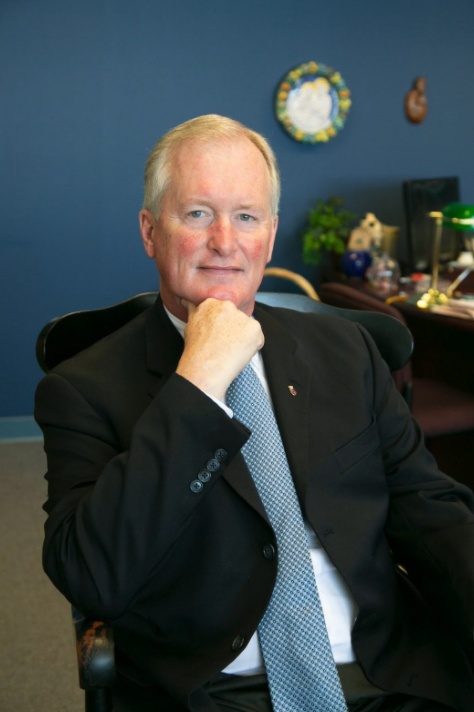 Dear La Salle Community,
We continue to mourn the passing of former School President Dr. Richard M. Gray, who passed away unexpectedly on Saturday, October 9, 2021. During his twenty-year tenure as La Salle's president, Dr. Gray oversaw the construction of Kohorst Field, campaigns to provide funds for technology, the arts and athletics, the construction of a state-of-the-art STEAM laboratory, and the funding for La Salle's Blakeslee Learning Commons, among other important initiatives.
In addition to these many achievements, the development of the San Miguel Scholarship Program was one of Dr. Gray's most impactful contributions to our school community. This unique scholarship program offers full tuition and fees to students of academic promise, whose family income places them below the federal poverty line. To date, 136 San Miguel Scholars have graduated from La Salle and have made remarkable impacts in the communities they belong to.
In his memory, the Dr. Richard Gray Memorial - San Miguel Scholarship Fund has been established to assure the permanence of this hallmark initiative. I am pleased to announce that more than $800,000 in gifts and pledges have been raised for this endowed fund. We'd like to express our thanks and immense appreciation to all those who have made a gift to this special scholarship thus far. Your thoughtfulness has inspired many others to follow in your footsteps, as stewards of La Salle's mission.
Today, I invite your support of this endowed scholarship honoring Dr. Gray. The range of gift options reflects the importance that Dr. Gray associated with this program. I hope to honor his memory by quickly growing this fund. Whether you choose to join the President's Cabinet with a gift of $10,000 or more, the President's Council with a gift of $5,000 or more, the President's Circle with a gift of $2,500 or more, or the Crystal Circle with a gift of $1,000 or more, please know that your gift at any level will be deeply appreciated.
Shortly before his passing, I was able to sit with Dr. Gray as he shared his reflections and thoughts on the San Miguel Scholarship Program and its importance to La Salle College Preparatory. Please click here if you would like to see an excerpt from our conversation.
No initiative was more important to Dr. Gray than the San Miguel Program. I hope you'll take this opportunity to join the many others who have already chosen to support this special scholarship, as a way to honor Dr. Gray and his service to La Salle College Preparatory. If you'd like to make a gift and express your support, please visit lasallehs.org/graymemorialfund or click here.
Thank you for your support of La Salle College Preparatory and our students. I am extremely grateful for your thoughtfulness and appreciate all that you do to enrich our community and those you belong to.
Sincerely,
Perry Martin, M.Ed.
School President
DISCOVER LA SALLE
La Salle College Preparatory was founded in 1956. Today, we are the only truly diverse and co-educational Catholic high school in Pasadena.