Open House 2021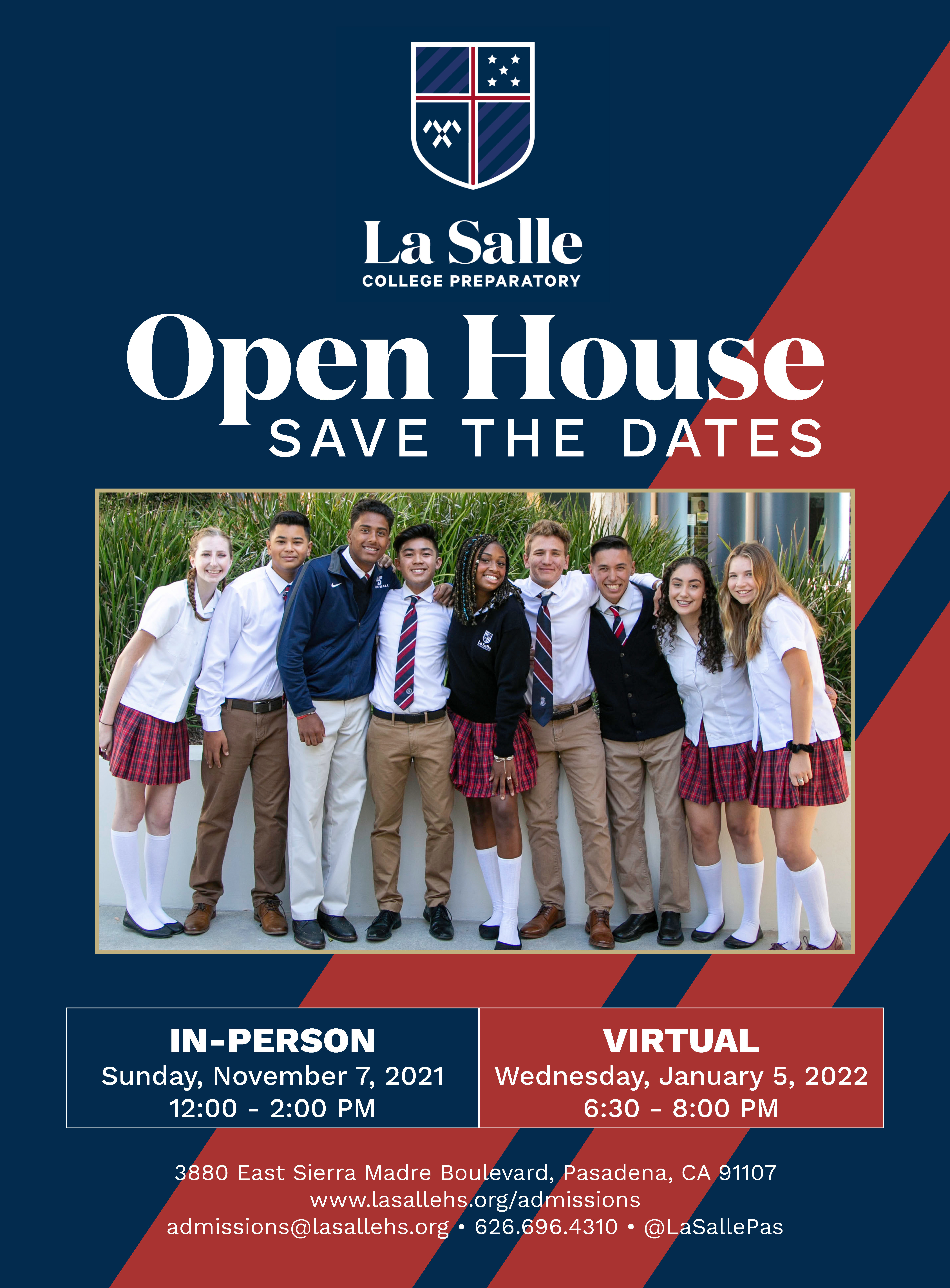 Join us for our 2021 Open House Events!
All prospective families are encouraged to join us for our 2021 Open House events! Our Open House events serve as great opportunities to:
Meet our tight-knit community of students, faculty, staff, coaches, and parents
Explore our ten-acre campus and innovative learning spaces
Learn more about our academic, athletic, art, and co-curricular opportunities and student-services
Discover how a Lasallian education is within reach with over $3.5 million in financial aid and scholarships awarded last year
As a way to provide different opportunities for our families to experience our Lasallian community, we will be hosting two open house events for the upcoming school year:

In-Person Open House Event: Sunday, November 7, 2021
Time: 12:00 PM to 2:00 PM
Where: La Salle College Preparatory Campus
How: Register today by clicking here

Virtual Open House Event: Wednesday, January 5, 2022
Time: 6:30 PM to 8:00 PM
Where: lasallehs.org/openhouse2021
How: Registration will open in December 2021

While our virtual event will be very informative and engaging, we encourage all families (who are able to do so) to join us for our in-person Open House as a way to "walk in our shoes" in the most fulfilling way possible! We look forward to welcoming you to our campus (both in-person and virtually)! If you have any questions, please reach out to us at admissions@lasallehs.org or call (626) 696-4310.
To ensure the health and safety of our guests and school community, COVID-19 protocols will be in place for our In-Person Open House:

Health screening acknowledgement upon check-in
Face coverings will be required by all in attendance
Maximized use of outdoor spaces and increased ventilation for indoor spaces in use
Hand-sanitizing stations will be available throughout campus
RSVPs are highly encouraged to ensure a seamless check-in experience and for contact tracing purposes.
If you're unable to join us for either event, please visit https://www.lasallehs.org/visit to sign-up for a campus tour or explore our campus virtually.
DISCOVER LA SALLE
La Salle College Preparatory was founded in 1956. Today, we are the only truly diverse and co-educational Catholic high school in Pasadena.