Center for Global Initiatives and Cultural Perspectives
La Salle College Preparatory opens new opportunities for you to explore and be ready to lead a new World Away!
The Center for Global Initiatives & Cultural Perspectives inspires students to explore intercultural relations and global peace while serving others. As students practice cultural awareness and skills through world travel, new pathways of global competence encourage curiosity, satisfy creative minds, and enable courageous new cultural perspectives where students can vision a World Away where all people can thrive together.
---
"We would like to thank our new American partners from High School Preparatory in the Pasadena district of Los Angeles for their warm welcome, the discovery of their establishment, their projects and the launch of the first edition of international exchanges between our students.

We are very grateful to be connected with them and other Lasallian schools around the world to create a strong network, and look forward to welcoming their students and teachers to our campus soon."

- Anthony Jennequin, La Croix Rouge La Salle in Brest, France
(Translated from French to English)
This newly established Center helps students develop their capacity to be informed, open-minded, and people responsive to diverse perspectives. Global and cultural education prepares students to address the world's most pressing issues collaboratively, equitably, and in a sustainable fashion, and immersing them in cultural experiences helps students understand that pressing global issues must be faced (and solved) in an interdisciplinary way, given the complexity of environments and competing needs and interests of our World.
The Center for Global Initiatives and Cultural Perspectives will also teach diplomacy skills and humanitarian skills, as well as offer Pasadena City College courses in the field of Global Studies.

Programs & Opportunities
Global Lasallian network cultural & educational exchange
International travel & hosting international students
Short & long-term study abroad
Cultural and diplomacy skills learning

College credits & Global Scholars pathway
Activities developing global competence
Distinguished speakers & mentorship
Internships & services


Global Scholars Pathway
Career pathways are offered in nearly one-third of all United States school districts, aligning educational skills and concepts under a career theme providing essential elements of Rigorous academic coursework, future applied skills, career-focused thematic design, and Work-based learning.
To fully support students academically and emotionally, La Salle College Preparatory creates a new Global Scholars pathway for students to develop global competence skills such as empathy and self-awareness, and to practice their critical thinking and diplomacy skills in their daily lives. By providing students with concrete social-emotional learning strategies, they develop the skills and dispositions they need to navigate a complex and ever-changing WORLD AWAY!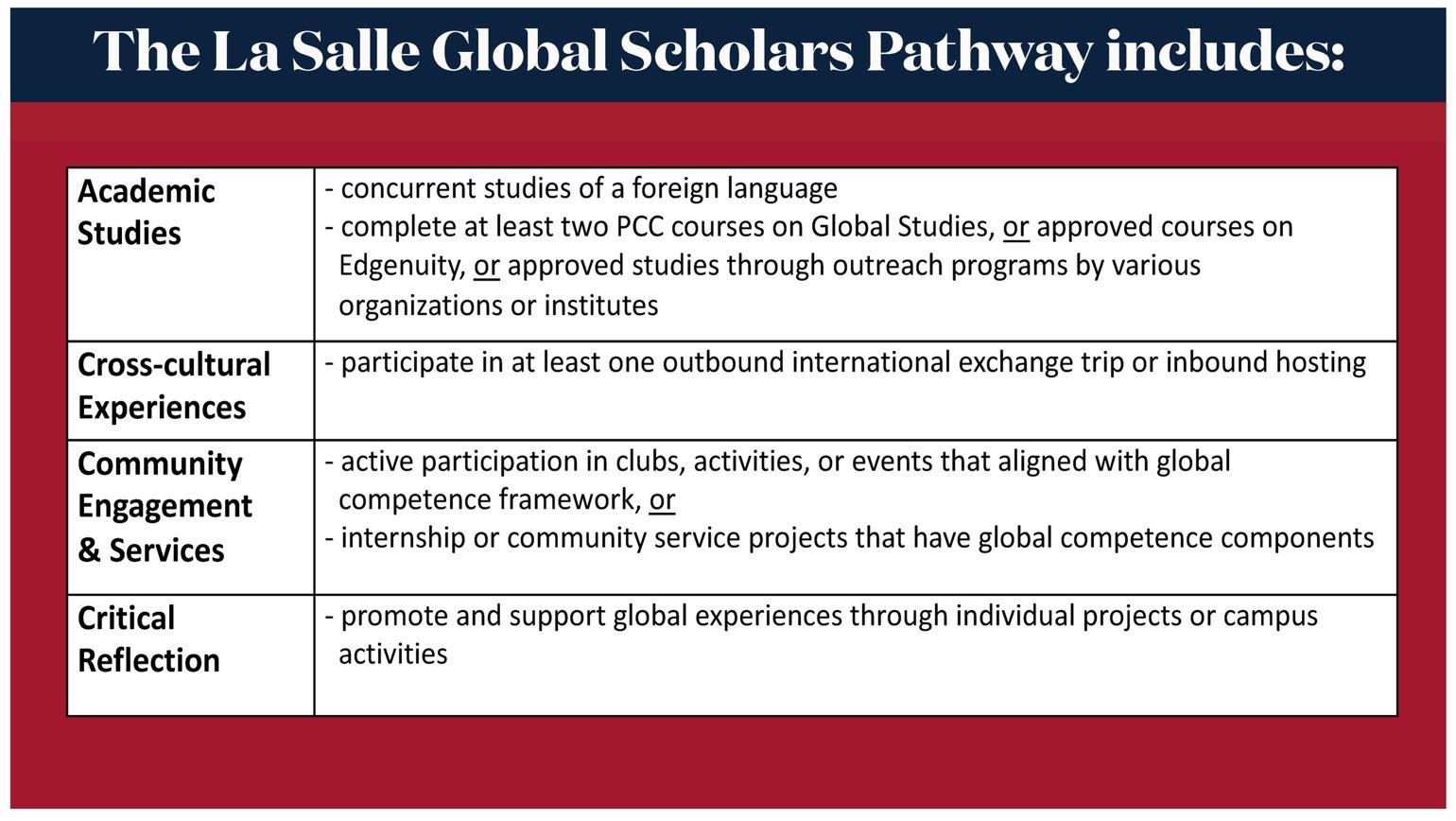 Pasadena City College Credit Course in Global Studies
La Salle College Preparatory expands our collaboration with Pasadena City College to offer a new college-level course called "Introduction to Global Studies". This course is offered free of tuition and enrollment is open to all grades. Students who successfully complete this course will earn three college credits. You can find the course details here.
Interested students can contact the Center for Global Initiatives & Cultural Perspectives at jsun@lasallehs.org for additional information and registration assistance.

Partner Schools
Our Lasallian network worldwide is full of opportunities for our students to experience cultural exchange and share different ideas, traditions, and knowledge. Our students will experience language and cultural differences with other students, like them, who are also yearning to learn about our students and our culture.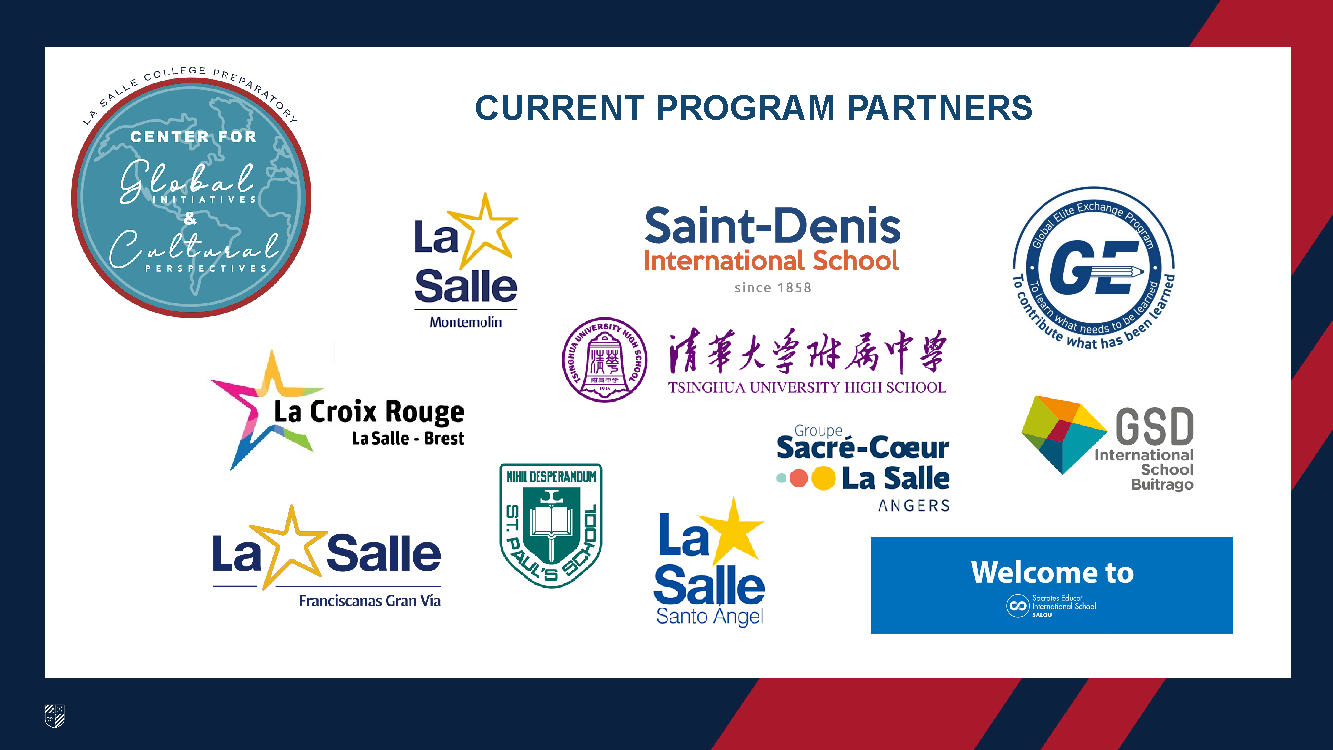 Our Center has already formed strong partnerships with a variety of Lasallian and non-Lasallian schools and programs in different countries starting January 2023. Our partnerships will continue to expand, offering opportunities for our students to truly develop their curiosity, passion, and skills.

Additional Information and Resources
Prospective La Salle College Preparatory students contact the La Salle Admissions Office at admissions@lasallehs.org for additional information.
Center Director
Jialin Sun
Ms. Sun is a long-time language & cultural studies and international exchange program specialist. Her area of expertise is in outreach programs that promote global education through the learning of foreign languages and cultures as well as intercultural exchange programs. As the director of the Center for Global Initiatives & Cultural Perspectives, she will organize and oversee all exchange and collaborative programs with Lasallian schools and other partners around the world and guide La Salle students through the Global Scholars pathway program. In addition, she will manage and oversee all La Salle travel programs. Ms. Sun can be reached at jsun@lasallehs.org.

DISCOVER LA SALLE
La Salle College Preparatory was founded in 1956. Today, we are the only truly diverse and co-educational Catholic high school in Pasadena.