Principal's Message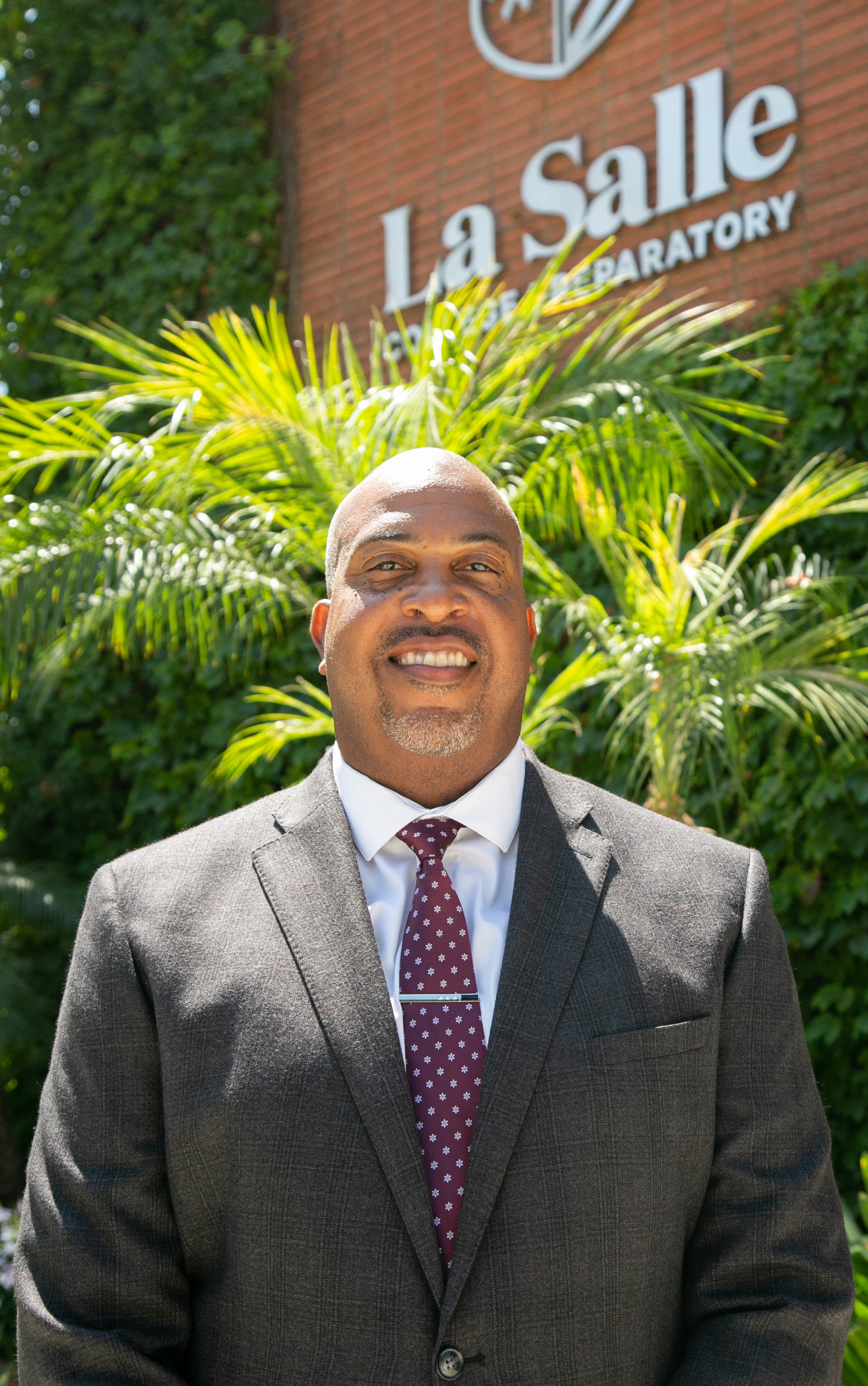 Mr. Jamal Adams, M.Ed., Principal
Hello La Salle Community! I am honored to have been selected to serve this community as the incoming Principal and look forward to building relationships and working collaboratively with all of our stakeholders to best serve our students and the greater community. I would like to thank Selection Committee members, particularly President Perry Martin, for the opportunity to apply for the position and, throughout the process, grow to admire the students, faculty, staff, administrators, board members, parents, and alumni. Additionally, I would like to thank former Principal Courtney Kassakhian for her kindness in providing me with a great introduction to La Salle College Preparatory and sharing many essential insights into the critical functions and responsibilities of the office. As I begin my journey as a leader here at La Salle, please pray for the rest of our adult community and me as we focus on providing a robust education for our students that stimulates their minds, bodies, and souls.
As a proud native of Los Angeles, I am thrilled with the opportunity to call the greater Pasadena area my new home. I grew on the west side of Los Angeles in my formative years, bouncing between parochial school and public schools as my parents tried to continue to put me in the best opportunity for academic growth. With this in mind, my folks thought that the best chance for me to maximize my potential as a high school student was at Loyola High School, where I was pushed to expand my skills and knowledge in the classroom, and seeds of my burgeoning faith were planted. After high school, I matriculated to Columbia University in New York City, where I felt I could continue pursuing my deep passion for basketball while exploring my academic endeavors at the highest level.
I learned to grow my capacity to work hard, to see the power of belonging to something bigger than myself, and the beauty of building relationships with people who come from a variety of backgrounds, interesting perspectives, and have a different lived experience than myself. At the end of my senior year, I found myself at a crossroads of discerning between a professional basketball career overseas or choosing between several job offers in the financial industry. Being a bit overly rational, I chose the latter. My finance career began at Merrill Lynch, working on the NASDAQ trading floor as a specialist helping facilitate large equity orders for our larger retail clients.
For the next 11 years of my professional career, I was promoted, moved back to Los Angeles, transitioned into an Institutional Equity Sales role, and ultimately left Merrill Lynch to join UBS to partner with a mentor of mine in growing Private Wealth practice. Simultaneously, I had married my high school sweetheart, Pamela, and we became young parents to our two beautiful children, Jaylen and Jerod. Lastly, I had returned to Loyola to work as an assistant coach within the basketball program. If all that wasn't enough, I was confronted with the most challenging situation of my young life when I learned my younger brother and best friend was diagnosed with brain cancer at 26 years old.
Recognizing my passion for teaching and coaching while reconciling a personal tragedy of my brother's courageous battle with cancer that ultimately cost him his life at 31 years old, I took a leap of faith to leave the world of finance to become a full-time educator. Returning to my Alma Mater, Loyola High School of Los Angeles, as a full-time teacher in the social science department, teaching Introduction to Economics and African American Studies, and the Head Varsity Basketball Coach in 2005. In May of 2013, I completed my Master's degree in Secondary Education at Loyola Marymount University, which included an invitation into the International Honors Society Kappa Delta Pi due to my strong academic performance. In the fall of 2015, I transitioned into Loyola's administration, becoming the inaugural Director of Equity and Inclusion, an initiative that, grounded in the Care for the Whole Person (Cura Personalis), established an institutionalized culture of encounter, awareness, and understanding of and for the other. In a 2018 reorganization of our school's leadership team, I was invited to join the Directors of Faculty team. Empowered by our Principal, our team helped each of our faculty members reach their professional goals through regular observations, feedback, and professional development and served as the initial screeners during the hiring of new faculty. It was a blessing to bring many of my lived experiences, developed skills, and acquired wisdom to bear daily in my work.
I believe that each child is embedded with inherent gifts and the ability to learn. With this principle as a foundation, I think it is imperative to create an educational environment that is secure, allows for risk-taking, displays care for the whole person, and engages each student to grow intellectually, emotionally, physically, and socially. In collaboration with their students, educators assess their learners' foundational knowledge bases, tap into their natural curiosities, chart a path towards new skills and wisdom, and encourage each student to reach their full potential. Serving as a guide on their journey, we should point our students towards the requisite information for their own development rather than act as the singular and primary source of information.
Equally important is to foster an opportunity for students to pursue knowledge in areas that are meaningful and relevant to their lives and interests. Developing a curriculum around ideas, notions, and events pertinent to our students' lives helps stimulate their motivation and passion for participating and acquiring wisdom that they can apply in navigating their lived experiences. Educators must be willing to meet the young person where they are at by developing a culture and climate of mutual trust that support the exchange of ideas that are relevant and timely.
Lastly, I assert that all education is vocational in that one of the most enduring impressions of education is Care for the Other. We want to foster a sense of our shared humanity, developing a deep love and respect for themselves, others, and the environment. Centered around a faith that does justice, we want our students to be willing to share their gifts, move beyond charity, express genuine concern for the poor and marginalized while being humble enough to walk in their shoes while advocating for change.
Being an educator has provided me with the continual opportunity of discernment, scholarship, and personal growth. As I described above, I believe my experiences as a student, my career in Finance, my roles as an Ignatian educator both in the classroom and on the basketball court all inform and shape the way I see my role as a mentor, decision-maker, and as a Principal. I look forward to this journey of getting to know the La Salle community at large, be it with our students, my colleagues, or our families, and thoughtfully discerning and advising in a way that helps everyone improve and feel supported. Again, I count myself fortunate to be given this tremendous responsibility to lead La Salle College Preparatory at this crucial juncture in its history. I am committed to fostering a culture built on the bedrock of trust, innovation, creativity, and accountability, for the benefit of our students to see themselves as agents of change in their communities and the world as a whole.
Over the next few weeks and months, I look forward to meeting with students, parents, faculty, staff, alumni, and benefactors who make up this unique community at La Salle. I'm excited to begin this journey and help to ensure La Salle College Preparatory continues to fulfill its mission, set by our founder, St. John Baptist de La Salle.
Sincerely,
Jamal Adams, M.Ed.
Principal
If you would like to contact Mr. Adams, please reach out to the Principal's Office at principal@lasallehs.org or call (626) 696-3416.
Get to Know Principal Jamal Adams!
Check out the below video for a Q&A session with Mr. Adams!
DISCOVER LA SALLE
La Salle College Preparatory was founded in 1956. Today, we are the only truly diverse and co-educational Catholic high school in Pasadena.